Yesterday I mentioned an expensive cake pan. Before I introduce the pan let me give you some background material. We live in a rural farming community surrounded by thousands of acres of corn and soybean fields. Major development is breathing down our necks and they've built a "lifestyle" mall in Geneva, Illinois which is about 15 miles from here. I contend that this is the only place in the world where there's a Coach store within 3 miles of a livestock feed and supply place.
It is for this reason and this reason alone that I own a $30 cake pan. I might be tempted by the sight of it in the Williams Sonoma catalog but when you're in the actual store impulse takes over and soon you find yourself with a heavy cake pan in the shape of a ring of evergreen trees. It's all a blur. How did I pay for this? I certainly don't remember walking to the register with this.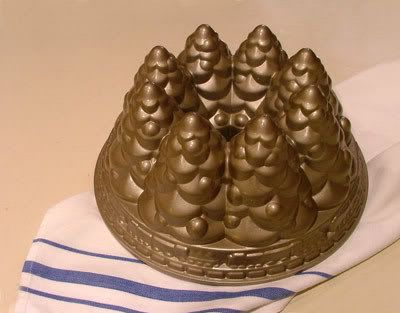 I immediately launched into justification mode and decided that I'd use the pan to bake spectacular cakes as Christmas gifts for all the farmer's business associates. That numbered about 18 and adding my boss and my own family in for good measure I came up with 20 cakes to be baked. Whew...I felt much better. Then reality set in as I started to tally up the pounds of butter, flour, sugar and buttermilk involved. Oh, and the time needed to bake the cakes one at a time.
I admitted defeat after baking one cake. I decided I'd shop for other gifts for the farmer's purposes and the single cake would be presented to my boss. It was a spectacular presentation. The cake ring of trees was lightly glazed and dusted with powdery sugar, looking all the world like a forest newly covered in snow. It was on a cake board encased in sparkling clear cellophane and tied with a golden ribbon and a fresh evergreen sprig. The cake was so spectacular that my boss ran up to the photographers office and begged for them to take photos.
It was at this point, with my boss's encouragement and the thought of armies of professional photographers shooting my cake, that the idea of a $30 cake pan didn't seem so far fetched.
The complete recipe is at the bottom of this post. Let's get started.
First we put the butter into a large mixing bowl and let it stand for about a half hour to soften up.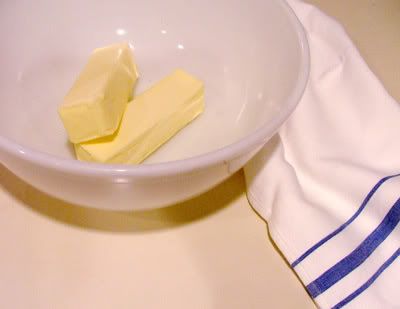 Cream the butter and sugar together. Sift the dry ingredients together.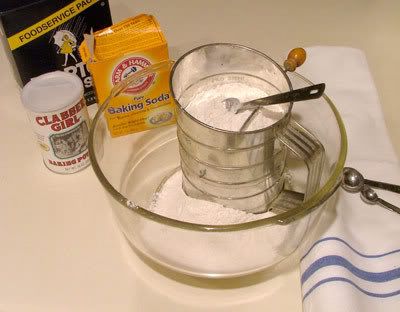 Add eggs one at a time to the butter and sugar mixture. Beat well after each addition.
Next add the vanilla. I love this vanilla which is available at the Mexican markets. Very inexpensive, lovely aroma.
Continue to beat the mixture alternately adding flour and buttermilk. Did you know that like some fine wines, buttermilk has "legs"?
Continue beating on high speed for at least 10 minutes. You'll end up with a beautiful, satiny batter.
Spray your pan well with a non-stick spray. This pan is especially problematic due to its shape.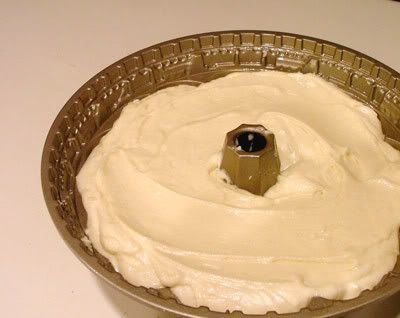 Bake for 1 hour 10 minutes in a preheated 350 degree oven.
BUTTERMILK POUND CAKE
3 cups sifted flour
1/2 tsp. baking powder
1/2 tsp. baking soda
3/4 tsp. salt
1/2 lb. butter
2 cups sugar
4 eggs
1 tsp. vanilla
1 cup buttermilk
Sift flour, soda, baking powder & salt together. Cream butter with sugar until light & fluffy. Add one egg at a time, beating well after each addition. Add vanilla. Add flour mixture alternately with buttermilk. Beat till smooth after eact addition. Pour into a greased & floured tube pan. Bake at 350 degrees F for 1 hour & 10 minutes or until cake tester comes out clean. Top with powdered sugar.
NOTE: You can use other flavoring in place of the vanilla. I've used margarine in a pinch and it still makes a good cake. If you want to use this for loaves it makes two regular loaves or 1 extra long loaf. You can add a drop of yellow food coloring for a deeper color.
Come back tomorrow to see the cake as it came out of the oven. There is going to be a challenge and a prize connected with this unveiling. Bring your best problem solving skills to the table. That's all I'm going to say!!!