That's my excuse! I know that you were looking forward to visiting the egg farm and picking up some fresh eggs. I was going to make a lovely buttermilk pound cake. But Mother Nature had other ideas. My posts are planned and photographed a day ahead so I would have driven out to the farm yesterday, but when I awoke this is what awaited me: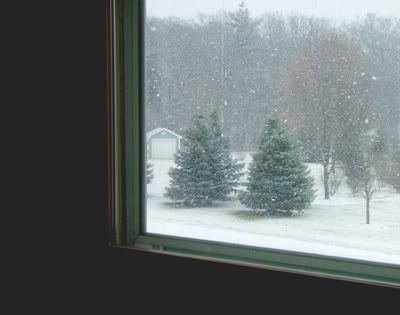 A mini-snowstorm. This was just a small annoyance in the midwest scheme of things but navigating the unpaved and rut filled drive up to the egg farm is dicey in good weather. It's best not to tempt fate, so we'll make plans to do it another time, OK?
Instead we're going to keep warm, stay inside and tour my studio. I love to see other people's work space, don't you? I'm set up in my daughter's bedroom while she's away earning her master's degree. I'll be carving out a different spot in May when she graduates, but until then I have squatters rights!
I've set up a 6 foot banquet table as my main work space.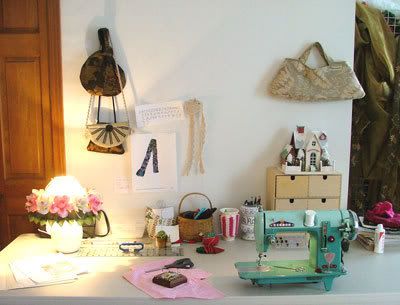 Here's Beverly my vintage sewing machine. I really, really love Beverly.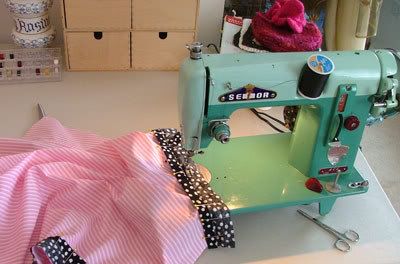 I found this wooden box with 6 drawers at IKEA. It's perfect for storing buttons. LOTS of buttons!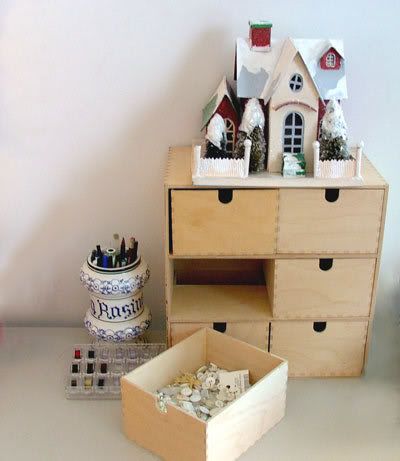 I'm very messy when I work. Please don't tell me you're neat and organized.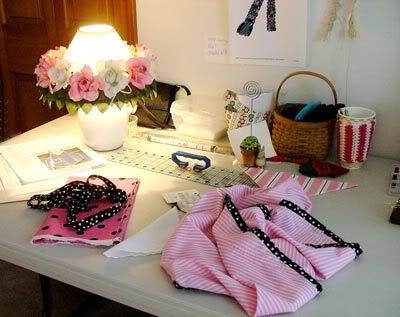 There's a small alcove in the room that holds wire storage racks filled with fabric, yarn and other "stuff". It's very narrow though and impossible to photograph. Trust me, it's very neat and organized. Yeah, right.
There's yarn in trifle bowls.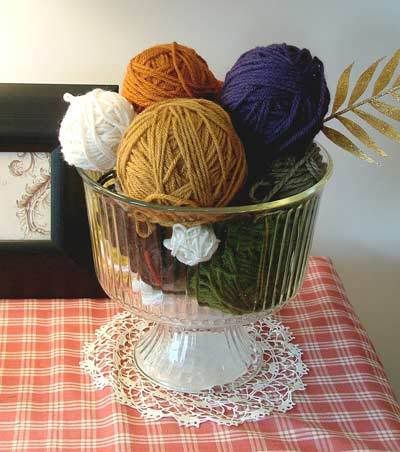 I have a small drafting table that I use to draft new patterns. I love the lava lamp. The geisha doll is in a mirrored and glass case. My favorite uncle brought it to me from Japan in the 1960's. The tall glass jar is filled with crocheted trimmings and felted flowers. I make up a bunch and tuck them into the jar until I need them.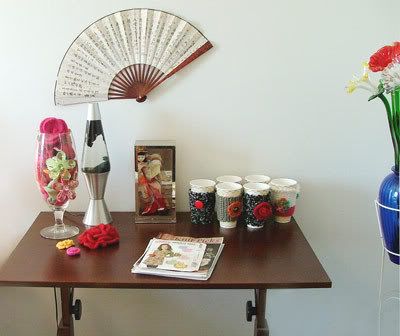 Since I'm just a squatter I can't paint the walls a lovely shade of geranium pink, but I was thinking of at least putting these Croscill swag valances on the windows. What do you think? (The valance is in the center, strung on my large t-square).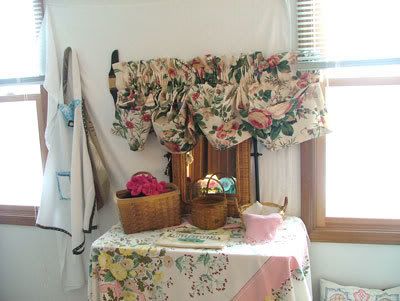 Here's where I sit and read. I call it my Mary Englebreit chair because it's oversized and overstuffed like her image "A Chair Full of Bowlies". The yellow canvas cover is a bit faded so I wrapped the chair in a soft green fabric.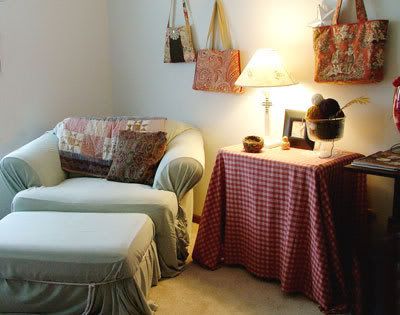 Here's the apron that Beverly and I were working on. I'm going to submit it to Tie It On for February. It will be listed in my Etsy shop tomorrow if you're interested.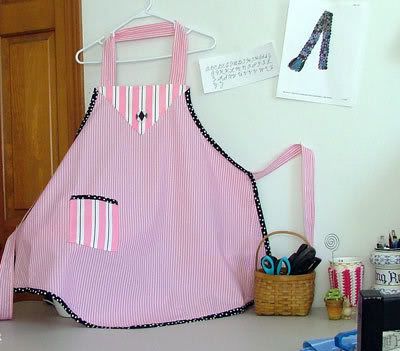 Note to self: Please, please invest in a dress form for display and photography purposes.
Thanks for visiting my studio. I figure if you're going to slave away it should be in a space that feels comfy.
Tomorrow we're going to lunch with the girls.