If you're looking for lovely photos of beautiful and inspired homes, you're in the wrong place. Come back another time. Right here, right now, we're stuck in another dimension. It's called reality after the flood.
There are drop cloths in strategic spots in an attempt to keep the mess down.
If you find yourself with water in your basement and need to remodel that mean you're going to need to remove almost everything from the space. You can easily fill up a 30 yard construction dumpster - we did. I was pretty good about sorting through stuff. Here's only one of the piles waiting to go to the Goodwill store.
There are stacks everywhere, including the front hall. It's like living in a warehouse.
I feel like we're finally making some good progress. Here was the scene back in September.
All that tile had to be removed with a heat gun and a putty knife. That was child's play compared to what was under the carpet.
Literally pounds and pounds of carpet glue per every 4 foot square. It was crazy. I think the previous owner must have gotten a deal on carpet glue. This too had to be scraped up with a combination of chemicals and putty knife. By this time the concrete floor and I were intimate friends.
Then we tore off drywall.
We had an electrician come in and add lots of fabulous new recessed lighting. Hey - I draw the line at electrical work...and plumbing.
We have some nice new walls. On the right you'll see the fireplace surround that my son and I built for the electric fireplace unit. It's going to go on that wall just behind, flanked by two low bookcases that can also serve as buffets for food.
Miguel and his crew did a great job on the drywall.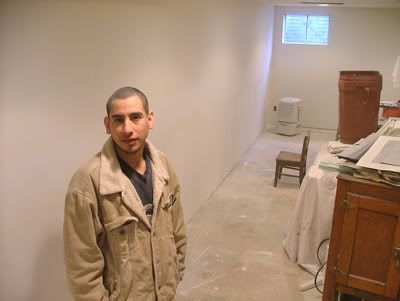 Stick with me. Someday this place might just be magazine-photoshoot-material, just not today.
NOTE: This is really nothing in the scheme of things, a minor inconvenience. It does give you a perspective on the aftermath of Mother Nature's wrath though.
Tomorrow the farmer's son and I are going shopping for the important stuff (beside the electronics). We'll be going to a gently used foodserve equipment company. That's a thift shop for professional restaurant and bar equipment. I don't know if they'll let me take photos, but we'll see.