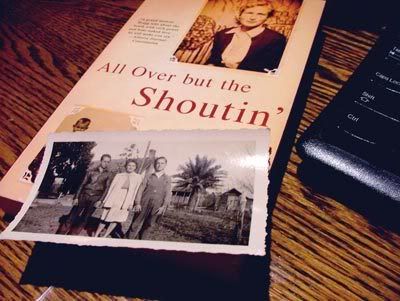 Yesterday Mary from
Little Red House
participated in an interesting tag. She also has a great method of tagging others.....if you're interested in being tagged, go for it! I love the fact that it doesn't put the burden on someone unless they're interested.
I decided to accept the tag. Here are the rules:
1. Pick up the nearest book (of at least 123 pages).
2. Open the book to page 123.
3. Find the fifth sentence.
4. Post the next three sentences.
5. Tag five people.
Immediately I decided to break the rules. I'm wierd that way. Rule #1 was easy because as I sit at the computer I face bookshelves that contain between 900-1,000 books. So I walk over and grab a book, Carson McCullers, "The Heart is a Lonely Hunter".
I open the book to page 123 and......I don't like the sentences at all. Don't get me wrong, McCullers can craft words into magic, but this seemed to be a very uninspiring passage. So I walk back over to the bookshelf and grab the next book to the left, "All Over But the Shoutin'" by Rick Bragg. For sure page 123 of Bragg's book will have something interesting to say. This page ends a chapter and I decided to post all the sentences on page 123.
"I had no idea where this writing business would take me. I did dream, then, that someday it might take me fourteen miles down Highway 21 to the respected daily newspaper, the Anniuston Star, circulation 30,000. If you could get on there, you could get $114 a week, subsidized Blue Cross, Blue Shield and free roast beef at the Christmas party. I never dreamed, I never would have dared dream. of the great joy and despair that it would open to me. I never would have dared drem it would take me into the temples of my profession, to that almost mythical place above the dirty sidewalks of West 43rd Street. And I never dreamed, to get there, I would run through the dark, twisting tunnels of other people's nightmares, that I would choose to do it that way because, in a foolish and romantic way, I believed I knew the way."
Bragg's family could easily be labeled as poor white trash. The problem is that if you labeled them as such you'd miss the better story, the deeper and more complex understanding of a family and a culture. Things are never as simple as they seem and Bragg tells his story with an honesty that is breathtaking. An acquaintance of mine hates the book, but the problem is that he lived it and never accepted or fully understood his experience. Someone said that if you embrace your life history, good and bad, you become fierce with the truth.
The photo sitting on Bragg's book is on of my dad and his siblings. They were orphaned at a young age and raised by their uncle on the family homestead, a cotton, peanut and sugar cane farm in the Florida panhandle. There are elements and characters in Bragg's book that are all too familiar to me. And like Bragg, I'm not in the business of being a history revisionist.
I'm going to follow Mary's lead and simply say that if you're interested, consider yourself tagged.
Tomorrow we're going to discuss one of my postcard projects.....and maybe do some baking.