My grandmother was raised poor in the rural south. During World War II she got a job in a manufacturing plant and worked in factories her whole life. Since she worked in industrial settings, often dirty and lifeless, she understood the importance of creating beauty in the home.
Her dining room wall was adorned with a Pink Willow tapestry which matched her dinnerware. Her bedroom always had a special corner for her dressing table. It was magical confection of pink and crystal and when I stayed at her house I would slip out of bed very early and sit on her padded stool and marvel at the beauty of it all.
The skirted table is a classic and she had a beautiful tri-fold mirror and crystal dressing table lamps. The top was literally covered with make up beautiful perfume bottles.
I've always kept a dressing table in her tradition and at one point I had my other grandmother's bird's eye maple set in my home. But when the new furniture arrived I passed the maple set to my sister and purchased this desk and chair from Target to serve as my newest incarnation of the dressing table.
The desk drawers provide enough room to store makeup and other items. But anyone that knows me would know this is not finished. I'm debating on what to hang over the table. Artsy photography, artwork or mirror? I'd like some suggestions. I'm thinking perhaps one of those 60's starburst mirrors, or perhaps something very different - a mirror with a frame covered in seashells. My friend Di gathered lots of shells for me at the beach and those would give me a good start.
I'm also thinking of draping the top with some beautiful heavy linen and embroidered cut work cloth. The lamp shades are boring beyond belief and I'd like to cover them with some rich fabric. I'd really love to hear your ideas.
I believe in bling on the dressing table. Mirrored frames, mirrored cones, mirrored trays.....oh, it's a fung shui nightmare for sure!
I have some perfume bottles, certainly not as many as my grandmother.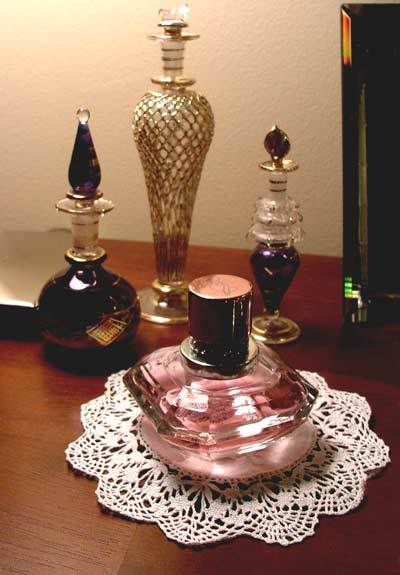 And my vintage flea market sunglasses. Love them!! Those are my Judith Jack pearls and the compact is a gift from one of my photoblog fans. Thanks Susan!
I keep the rings and earrings that I wear all the time in this cut crystal sugar bowl.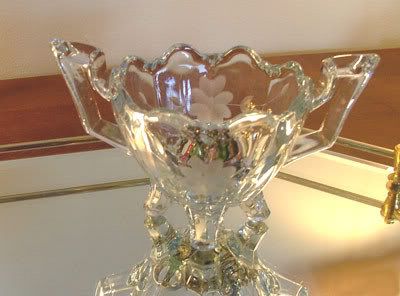 Back when I was doing the craft show circuit I purchased this lovely jewelry box from a woman who had the booth next to me. It's covered in vintage jewelry pieces. She only used earrings that were missing their mates and broken watches, etc.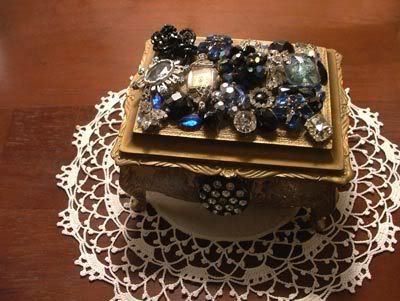 I encourage you to carve out a beautiful space for yourself, a dressing table if you have the room or a nice spot on the bathroom vanity.
TIP FROM THE FARMER'S WIFE -
Over the years I've had lots of earring that have lost their mates. I call them "orphan earrings". You can put them to good use by making scatter pins out of them. Get either tie tack hardware as in this example, or earring backs that have those rubber stoppers. Tie tack hardware works best because it "locks".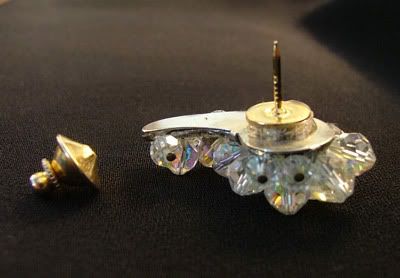 Use a bit of glue (I use clear silicone glue) and glue to the back. Instant scatter pin!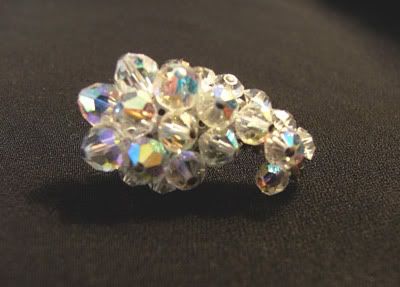 Tomorrow we're going to engage in an interesting assignment. Mary from Red House put out a tag and I accepted the challenge. Don't worry, I won't tag you!