Time: 2004
Place: Batavia, Illinois
THE MILKMAN COMETH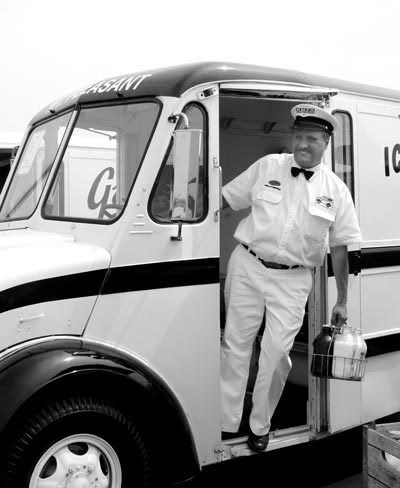 This photo recalls a day in the mid-1950's when every suburban home enjoyed home delivery of milk, eggs and bread.
Oberweis Dairy still makes home deliveries in the northern Illinois area and for years we've enjoyed their wonderful milk in glass bottles.
I took this photo at a convention of milk truck collectors. Yes, there's a collector's group for almost anything you can think of, including old milk delivery trucks. Some of the participants came from as far away as California. In fact, many of the most famous dairies seem to have been from California.
People also collect the glass milk bottle and cardboard bottle caps.
When I was younger we lived about 40 miles west of Chicago in one of those communities of small ranch homes built for returning G.I.'s after World War II. No one had two cars in those days. The housewives were stuck out in the suburbs from Monday to Friday without transportation to the food store and so the business of delivery was very important.
I fondly remember the milkman and the bread man. The bread man was especially important because he brought the packages of cinnamon rolls. What a treat.
Do you remember the milkman? Or did you milk your own cows?