A lifetime ago the farmer was traveling alot on business. From Monday to Friday he'd be in Canada and home again on the weekends. My days were filled with peanut butter, sick kids and.....well, I don't think I need to tell you what my life was filled with. You know.
My friend Marge called me one evening and said, "I'm concerned."
"About what?" I asked.
"I think you're suffering from Mommy flu."
"What's Mommy flu?" I asked.
"Well, last week when we went out to lunch you reached over and cut all my meat into tiny little pieces."
"Yeah, so???? Wasn't it small enough?"
"No, really," she continued. "You seriously need to get out and mingle with some adults."
"You think?"
"Yes. I snagged an invitation to a client's gallery show. It's a cocktail party and a show."
"Cocktail party?"
"Yeah, you remember. Hors d'oeuvres and drinks. Conversation."
"Oh, hmmmm, yeah I think I vaguely remember something like that."
Saturday night arrives and the farmer and I meet up with Marge and her husband. Her client is a famous artist who's work was seen in every mall across America. She was talented and designed dreamy triptychs which filled the void created by the now unpopular sofa size oil paintings. Her home occasionally served as a gallery for her work. To top it off she was a runner up in the Mrs. America contest. Overachiever!
When we arrived at her beautiful townhome I commented to Marge that this must be how the other half lived.
Everything was perfect. Absolutely perfect. And clean, spotlessly, stunningly clean. She had children. Where was the stuff of kids? There must be a hidden room somewhere.
We nibbled, we drank, we chatted and marveled at the originals of her published works. Marge and I toured the place, peeking into every corner. It was then that an uneasy feeling set in. It was too perfect, as if it was all a computer generated image. There was nothing out of place but more importantly, nothing personal or funky. No collections or family photos.
I know some artists. They're funky, original and have a quirky sense of humor. This place reflected none of that. It was as if we'd stepped into the Stepford Zone. This woman's home was quirk-free and very serious. The furniture was contemporary but so unremarkable that the moment we stepped out of the door I'd forgotten what it looked like. There was not one item that was memorable or made an impression.
There were no Guatamalan jaguar masks.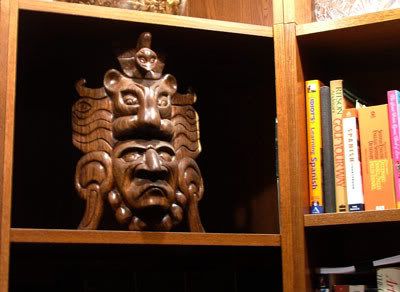 Or odd round rocks on a bookcase.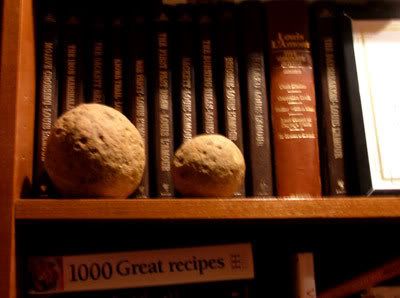 At this point in my life I didn't know alot about decorating, but I knew that this townhouse was a lesson in how NOT to decorate.
Vee's
son raised the question about what makes a house a home. It's hard to put your finger on it but certainly it's a personal stamp, something that reflects your personality or your viewpoint. And in my mind it must contain a little bit of the unexpected. I'd love to hear your opinions on homes that have impressed you with their originality or little surprises that made an impression on you.

Tomorrow - It's supposed to snow again today so maybe we'll bake something AFTER we plow....again.