On the 23rd, that's a week from Saturday, the farmer and I will be leaving on a jet plane. Our destination? St. Croix, U.S. Virgin Islands.
We love to travel and our choice this time around was narrowed considerably when, about a month ago as I was going to finalize some plans, the farmer announced that his passport was expiring! That threw a monkey wrench in things. But my great neighbor and
travel agent Debbie
helped me come up with a solution. Since St. Croix is a U.S. territory, we don't need passports.
You'll all be able to enjoy the vacation (virtual, of course) after we return and I download all the photos from our adventures. But I'd like you have something tangible from the trip so we're going to do a Postcard Project.
I've done this many times before and it's alot of fun. Just e-mail me you snail mail address (put "Postcard Project" in the subject line) and I'll send you a post card from St. Croix. Don't worry, after I address all the postcards I tear the list into tiny pieces, sprinkle the pieces on some local food and eat them!!!
I'd love you have you participate. I'm going to be busy getting ready for the next week and I want to be able to get the list finished and tucked away in my carry on bag.
Oh....and I'd love to lift a drink and toast you when I'm on the beach. What do you like to drink?
UPDATE: Let's not tell the farmer, OK? I went to Payless for their BOGO sale (buy one-get one half off) and got 8 pairs of shoes and 2 handbags for $32. I'm probably going to need a separate suitcase for the shoes!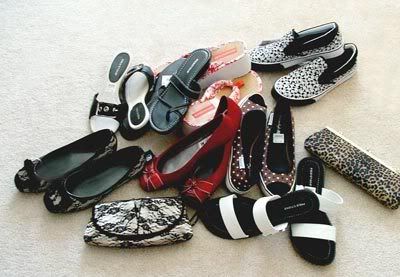 I especially love the brown polka dots flats and the lace covered ballet flats. Oh heck, I love them all.
OK, they're not Jimmy Choo's, but then again I'm not Jennifer Lopez.
Tomorrow we're going to do a tutorial on a really fun project for Easter. The whole family can get involved in this one!