Blogging requires a committment of time and effort. The personal decision to update a blog daily sets the bar high because you're required to produce an endless flow of material, and the truth is sometimes there's just no "material".
Three years ago when I launched my photoblog I had no idea what a challenge that would be. One of the first relationships I developed in the photoblogging community was with a photographer in New York who captured and published a photo taken on his subway commute. On the surface it wouldn't seem that we had much in common. I was employed at a small town newspaper, living in the middle of nowhere. He was a photo editor (now for INC. magazine) in one of the most exciting cities on the planet
What we had in common was a love of the photoblog, which allowed everyone into the game. Early on he christened me the poster child for blogging. I suppose it was because of my great enthusiasm in the fact that with a computer and and hour's time anyone could be a publisher.
Travis Ruse completed a body of work that will continue into the future. I struggled to document the decay of a farming culture that was quickly being displaced by Adrienne Vittidini, Coach and big homes for less money! Imagine my surprise when he included me in a presentation he made in New York. Check out his website
EXPRESS TRAIN
and be prepared to be amazed. I've linked you to his very first entry. Just keep clicking "next" to work through the images, or click on archives. Due to a change in jobs he no longer rides the subway and the project has reached it's natural conclusion.
And here's a warning for you - I'm never going to be able to stay on topic. When starting "At Home..." I attempted to define for myself what the focus would be....decorating? Hmmm, I'm not a very good decorator. Cooking? Fair to middling but I'm certainly not going to tie myself to cooking for the camera everyday. So I've finally settled on the reality that my interests are wildly diverse and you'll never know what you're going to find.
Everything is blog fodder in my mind. Daily posting requires a continuous flow of subject matter and you will always find me jotting down ideas on note pads and deposit slips, sometimes scribbling at stop lights. Because of the discipline of my photoblog I always carry at least one camera, sometimes two or more, so photos also become blog fodder.
My friends suffer the fact that I'm always pointing a camera around. Which is a good thing because they're more relaxed and not posing. Dinner on Monday night was an opporutnity to catch my friend Donna being her wonderful, sunny self. She's such a jewel. Behind her is the other Donna, engaged in a lively discussion.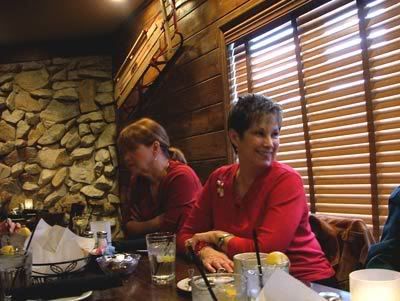 What would we be without our friends, cyber or in the flesh? We'd be in a fix and we certainly wouldn't have blog fodder.