In addition to all the blogs I read every day, I also subscribe to e-mail updates from something called Daily Candy. The e-mails are filled with information on fun and eclectic items. They may cover the latest in designer footwear, food, fashion, jewelry, restaurants or whatever! The updates are illustrated with cool watercolor artwork. In addition to the generic Daily Candy there's a regional version e-mail which links to cool local products (occasionally including some Etsy artists) and a weekend update which alerts you to local events.
I really love reading
Daily Candy
, and although I may never actually buy any of the items, it's fun to look and I'm always wanting to attend one of those events. Click on the link and explore all the subjects at the top.
You can sign up for free and choose which editions you're interested in and you can unsubscribe at any time. There are kids editions too, very cool. Check it out.
Subscribe to Daily Candy
In today's weekend update I found information on something called
SWAP-O-RAMA-RAMA,
which according to their website "is a clothing swap and series of do-it-yourself workshops in which a community explores creative reuse through the recycling of used clothing."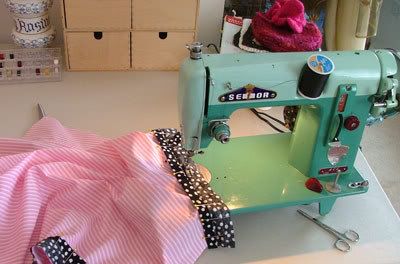 They set up a bank of sewing machines and work stations where you can create. There are also volunteers and demonstrations.
That's sounds like fun. Right up my alley as I repurpose clothing all the time. My
flirty apron
was created from a cute skirt I found on sale. There a session in Chicago and one in Chillicothe, Illinois. The Chicago event is this weekend, which I probably won't attend. Not only is it short notice but I'm not the most adventurous city driver. I will convince my sister to attend the April event in Chillicothe.
The Chicago event is Sat. Mar. 29
Av-aerie
2000 West Fulton, #310
Chicago
Chillicothe Swap-o-rama-rama April 12
Three Sisters Park
17189 N. Route 29
Chillicothe, Illinois
If you're not in the area think about hosting a similar event with your friends. Or hosta get-together where you share your talents, whatever they might be.
SPECIAL NOTE:
My sister and I will have a booth at the Kane County Flea Market the first weekend in May. The booth will be filled with vintage linens, glassware, kitchenware and lots of handmade and repurposed items. Information will follow. We've discovered we have an overabundance of stuff and as a result I'm going to be hosting an online market for the overflow. I need your help naming this market....I have two names reserved, "The Farmer's Market" or "The Farmer's Wife Goes to Market". What do you think?
Tomorrow we're going to engage in my version of California Dreaming!