Did I mention that the farmer gifted me with something beautiful while we were on vacation in the Caribbean?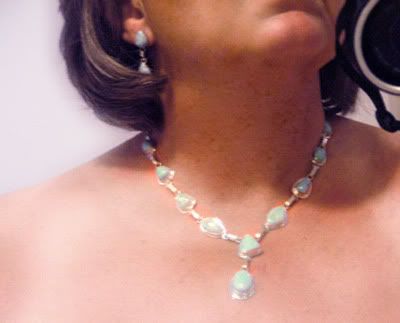 It's a Larimar necklace and I love it alot. The first time I encountered this stone was on a trip to the Dominican Republic several years ago. I was entranced by the beauty of the light blue stone, similar to turquoise but a lighter blue shot with milky white resembling the foam created by waves in the surf. At that time I purchased a slide to wear on my silver chain of rice beads. They didn't have much to choose from in the way of earrings though, so I took a pass.
I worried about a necklace that would draw attention to a sixty year neck, but decided what the heck!
This time I found some lovely drop earring to go with the necklace. Larimar is only found in the Dominican Republic. You can read more about it
HERE.
When we were young and raising children there wasn't much money for luxuries. Our choice was for me to stay at home with our children while they were small and we did what we needed to do in order to achieve that goal. I drove the most interesting beater cars for years.....safe, but not so pretty. I love my land yacht - the 1973 Olds '78.
I still have the little musical jewelry box that the farmer gave me one Christmas, with a note that said, "Here's a promise with this jewelry box that someday we'll fill it with something wonderful."
Wonderful indeed.

NOTE: Many, many kudos to whoever invented Photoshop. Even though I thrust my jaw to the heavens when I took the photo, "stuff" remained, somewhat removed with the healing brush. Also ran it through the diffuse glow filter.
Tomorrow is our trip in the way back machine. Don't miss it.