Immigrants bring with them more than just the clothes on their backs, they bring their culture. There's nothing worse than the feeling of being set adrift in a strange place and carrying on traditions softens the culture shock. Food is a big part of ethnic tradition and every culture seems to have a take on the concept of a filling surrounded by some type of dough. There's the asian steamed dumpling, the Italian ravioli and the Polish pirogi.
The longer your family has been in this country the fewer traditions survive. In my case that's not a bad thing because I might be serving Haggis instead of ham this Easter. My husbands family was more recently from Poland and his grandmother served fish and white borscht for Christmas eve dinner with an extra empty place setting for the unseen guest at their dinner table.
Without any ethnic identity surviving the toll of time I gladly latched on to my Auntie Em's. Yes, I had an Auntie Em. Her parents immigrated to the U.S. from the Georgian region of Russia. They were Germans living in a region that changed identity with every army claiming possession of the land.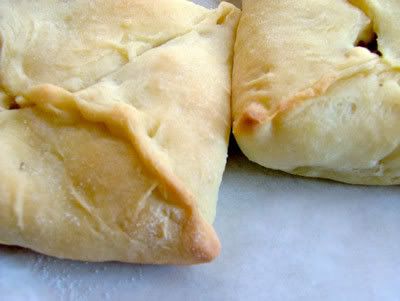 My Auntie Em would make Biruk (pronounce Bruck) and we would gobble them up as fast as they came out of the oven. Hers were a traditional way to use up leftovers. The day after she served a roast beef she put the leftover beef through a meat grinder. I remember the silvery contraption clamped to her countertop. The ground up beef roast would be cooked with some onions and cabbage to create a mixture that filled a yeast dough. It was heaven.
We always found them a little dry though and when I was old enough to make Biruk myself I experimented with ground meat. This version was moist and yummy and even Auntie Em had to agree that it was easier and more delicious.
Biruk is one of those "seat of the pants" recipes. I've been making it for over 40 years and have never used a recipe. I simply made a batch of dough and a batch of filling and everything always seemed to work out. But for the sake of future generations I've put together a basic recipe that can be doubled or tripled.
BIRUK
1-1/2 lbs. lean ground beef
1 large onion, chopped
1/2 medium head of cabbage chopped
1 box of hot roll mix or your favorite yeast dough recipe
Melted butter or margarine.
Brown the hamburger with the chopped onion. Drain off any fat. Add the chopped cabbage and place in a large pot. Season well with salt and pepper. Cover and simmer until the cabbage is very soft. Add a little water if needed. Allow mixture to cool completely or make the day ahead and refrigerate. Make hot roll mix according to directions. After second rising, roll out dough into large rectangle. Cut into 5-6 inch squares. Add filling to the middle of each square. Pull up four corners to the middle and pinch. Pinch sides to complete seal dough. Brush bottom and top with melted butter and place on greased baking sheet. Bake at 350 degrees until browned. Brush with melted butter again and serve with sour cream.
This recipe made 12 biruk.
The ground beef, onion and cabbage mixture should be simmered slowly. Don't be afraid to season heavily with salt. Cabbage seems to need a heavy dose.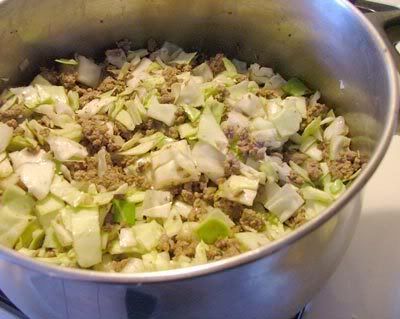 Make the hot roll mix and allow it to rise while your preparing the filling. Sometimes I do the filling the day before. I've used frozen bread dough in a pinch but I was disappointed with the results.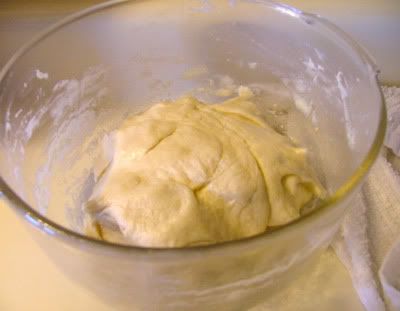 Roll the dough out and cut into 5-6 inch squares. Put a dollop of filling in the middle.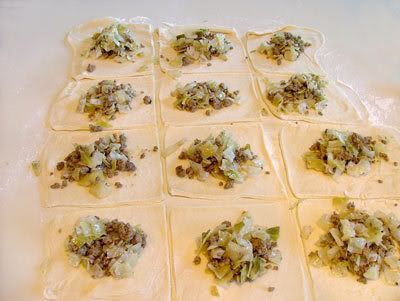 Pull up the corners and pinch the packet shut.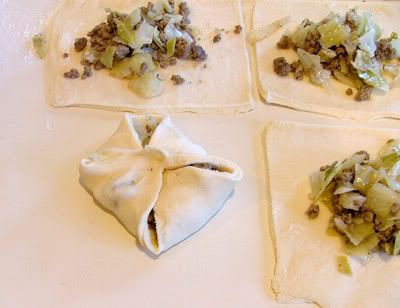 Brush with butter. Oops, looks like I got a little heavy handed there.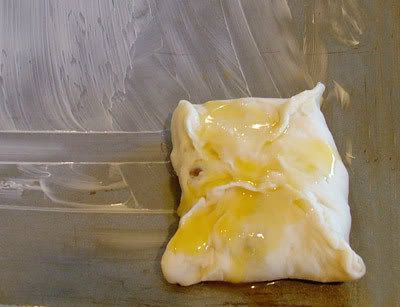 Bake till golden brown.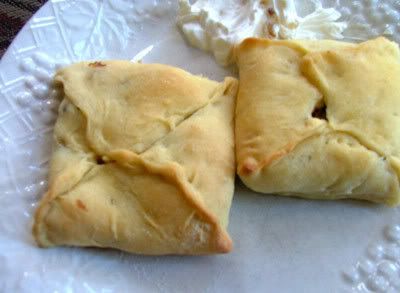 Twelve biruk will disappear in a few minutes in our house. I don't dare tell my family I'm making them because if word gets out I've got a household of my chilren's friends who just decide to "drop over".
Over the years I've struggled with the problem of what to serve with this dish. Finally a guest said, "Give it up. Nobody wants anything but the Biruk. Think about it, it's got meat, vegetables and bread all rolled up in one neat package." Yep, they're right.
And so this peasant dish has come to be known as my "signature recipe", a tradition of 40 years and still going.
How about you? Do you have one dish that's a traditional favorite?
Tomorrow we're going to review Fashion Week. I know what you're saying....what in the world could someone who wears a bucket on their head have to say about fashion? You'd be surprised!
NOTE: The winner of the hand-made greeting card is JLynette(Aunt Jo). E-mail me with your address and I'll get it off to you.