There are many interesting and talented people in our community and some of them have found a way to share their talents. Jack for example, is a amateur astronomer and set up his telescope one evening so that we could view Saturn. Our neighbor Jacki had a career in the fashion industry as pattern maker for a Chicago clothing designer. After the birth of her children, Jacki created a window treatment business and she works with some of the best local designers.
Her fun hobby is rubber stamping and she's found a unique way to share her eye for design with others. Several times a year she hosts a "Stamp Camp", offering at least four different days and time slots. Jacki does all the hard work, designing, choosing paper and ink and
cutting!
For this stamp camp she calculated that she cut all the paper for 1,000 greeting cards. Here's one of the stations.
Everyone arrives at the appointed hour and we all snack on the wonderful treats she provided. There are beautiful cards available for purchase and a large box of sample cards for inspiration in case you get the stamping bug.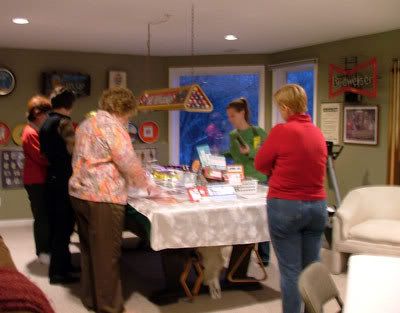 For the cost of camp we leave with 9 completed cards and envelopes. There are six different stations and you're free to do any combination. For example, this time I was interested in making a photo card so I made three of the "friends" card.
Jacki encourages you to get creative and use different sayings, and also to stamp the envelopes. Working in groups of two means you have someone to bounce your idea off of.
Here's my results. I did two versions of this card. Loved those color combinations!
This card was fun because it involved tearing paper.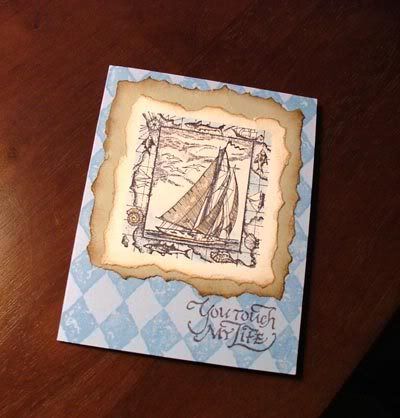 I liked this one alot so I did three.
The problem is I have a hard time actually sending them. I must work on that.
I encourage you to find a way to share your talents with others and encourage people to nurture their creative side.
Leave me a comment and I'll choose one person to receive one of the "friends" cards. And no, I won't sign the card, it will be yours to send on to someone else.
I want to thank everyone who visits for taking time out of their busy day to spend some time here "at home".
It's way too early to think about tomorrow....but come back anyway!