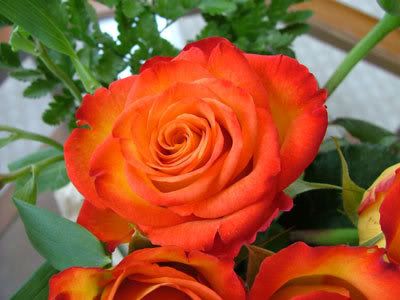 Now that's some color! Normally I buy myself roses in a lovely shade of pink or peach, tinged perhaps with a little yellow but these are a gift. No, not from the farmer because we reached a "Doghouse Agreement" many, many years ago.*
These are from my wonderful friend and neighbor Donna. She stopped by the other day just to give me a hug and let me know that she understands what I'm going through. Donna is no stranger to nerve pain as she's been suffering with fibromyalgia for years.
That's the thing about friends, they instinctively know what you need, sometimes before you do. And that also includes a swift kick if you need one.
Can you imagine yourself cut off from the caring and support of your family and friends? I once had an older woman, a very wise and beautiful survivor of the horrors of war torn Dresden tell me, "You can never really
know
something unless you've lived it." It caused her much pain to watch her daughter-in-laws toss tons of leftover food into the garbage. She and her family had nearly starved during the war. But she was wise enough to know that their experience was different and no amount of
telling
could make it different.
But I'll tell you my story anyway, and hopefully you'll call a friend or send a note or more important, reach out to someone who might be needing a friend.
In a lifetime long ago I married my high school sweetheart (now ex). It was at the height of the Viet Nam war and had been assigned to a base in San Antonio, Texas. We loaded up our few belongings and wedding gifts and headed out for what I believed would be an exciting adventure.
His pay was meager and being a military town there weren't alot of jobs available. Add to the mix the fact that we only had the one car and no money to hook up a telephone. So I sat by myself in the apartment, miles from the base where I might have had an opportunity to meet other wives. I might as well have been on a desert island. My family and friends were a thousand miles away.
There are so many levels to your relationships with other women and each layer (like the petals on this rose) revealed themselves to me. I didn't know how to cook, and had no one to ask! We suffered from that deprivation as two months later I cooked my first turkey. Imagine my surprise when it smelled very odd. I found a paper sack filled with icky parts inside the bird!
I found myself smack dab in the middle of a regional culture for which I had no rulebook, and again, no one to ask. I was the stranger in a strange land. There was a glimmer of hope. There was a young woman at the laundromat who seemed friendly. I'd seen her several times and had some conversations. The next time we crossed paths I made the suggestion that perhaps we could get together and do something. Like I said, I didn't have the rule book and she set me straight pretty quick. It seems that she was the wife of a First Lieutenant and she made it perfectly clear that she would
not
be socializing with a enlisted man's wife? (Remember, this was another time, another place.) I felt stupid and second class, crawling back into my little apartment and waiting for some snail mail from my friends at home.
Things improved because I was motivated to create some change. I did find a job within walking distance. There were women my age and I slowly worked on making friends. It was good.
But I don't think you can truly realize how special the bonds are between friends unless you've been isolated from their care. But that's OK because a wise old woman from Dresden told me it doesn't really matter.
I'd like to acknowledge the friendship, love and care entrusted to me by the best friend I've ever known and surprisingly enough (or maybe not) a friend I met over the miracle of the internet.....Diane. Your friendship is precious to me and I thank God for it each and every day. Love you.
Tomorrow we're going to attend a Stamp Camp. What's a stamp camp you ask? Come back tomorrow and see!
*SPECIAL NOTE:
"Doghouse Agreement" - The husband agrees to stay out of the doghouse and therefore NOT send flowers, and the wife agrees to buy her own darn flowers.