My brother and his wife hosted Easter dinner at their house which provided my mother a chance to engage in her new-found activity, dispensing a lifetime of stuff.
My mom will be 80 this July and she's following in the footsteps of my grandmother and my Auntie Em, who towards the end of their lives began parceling out bits and piece of their lives. We're not talking the family silver or engagement diamonds, we're talking photos, letters, ticket stubs and little remembrances of a lifetime.
My Auntie Em returned all the photo of my children that I'd sent her over the years. She knew I would love to have them and would mean nothing to her future descendants. My grandmother parceled out some of her precious cherubs. Yesterday my mom brought some interesting items along to find new homes. There was my grandmother's diploma from practical nursing school. In her late 50's she volunteered for the Peace Corps and was scheduled to head for Borneo until health issues prevented her departure.
Included in her cache were photos and a letter to my mom from and old friend and neighbor of my grandmothers - Martha Z.
Martha was one of those colorful eccentrics that filled my childhood. The word flamboyant could barely contain her personality. As you can see from her body language in the photo above she was as colorful and exciting as her boyfriend Leon was meek and mild. They were the original odd couple.
Martha studied fashion design and knew everything but everthing there was to know about fabric. She also studied millinery arts and was a well-known hat maker in the Chicago area. She studied Esperanto and flew down to Cuba to party with bullfighters. She earned a nursing degree and worked in that field and late in life became an expert in herbal gardens, curating the gardens at a local college. She was in a word .....a character. My goodness how I love characters!
The letter itself is a treasure and I'm glad my mom chose to share it with me. It will be safely tucked away at the bottom of my jewelry box.
The envelope contains the instruction, "Open here carefully".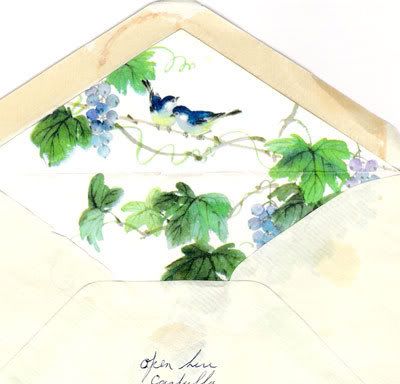 It was written to my mom, who was hospitalized at the time.
Dear Polly,

Well you are making headlines again. Mother said you were in the hospital! So I said there is never a better time to get a surprise note from someone you think has forgotten you. I never hear the song Rose of San Antone that I don't think of you, even while I was in Mexico I heard it and told the girls how you could sing that song. Don't forget it - ever. It's like a trademark. I'm sure my singing is not what I am best remembered for. Ha Ha.

I never was at Gottleib (hospital) but I am sure they are lucky to have you with your ready wit and sense of humor. The girls must fight over who will take care of you. We don't get cheery patients very often.

I just bought this stationery and use it only for cherished, cultured, knowledgable friends who will enjoy the textural design and thought that went into the design. So you see that narrows it down to only a few!

Saturday I am hosting a party for Diane (her daughter) who is 28. She is going to California to seek her fortune with the airlines. Going to give up being a hairdresser. Oh well, I may get a ride - I sure never got my hair done!

Well little "Rose of San Antone" I will start some good thoughts by mental telepathy to work for your recovery and return to the rat race of human endeavor!

Best wishes and fond memories,

Martha
I'm laughing because her life never resembled a rat race.
Does anyone actually write letters anymore? I know I do, but I love the sensation of pen and ink to paper. Do you know any eccentric characters any more? I know a few but not of the magnificence of those from my childhood. Or perhaps my memory has transformed them into larger-than-life figures.
Tomorrow we're going to venture into the world of art cars. What's an art car you ask? Stay tuned.....