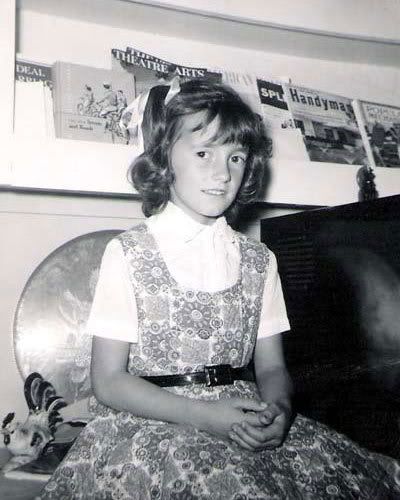 The time: 1955
The Place: Our home, Wheaton, Illinois
It's amazing to me that I distinctly remember every element in this photo, especially the fabric.
Like smells and sounds the image of a piece of fabric can spark memories for me. A piece of shiny Quiana print evokes the memory of shirts the farmer wore during the "disco" era and a love blue and lavender cotton Liberty print recalls the time I sewed a dress for young daughter.
I remember this jumper. I loved this jumper. The fabric was a quilted cotton print and the jumper had body allowing the skirt to stand out full. It was a pink, grey and black print, a color combination that I love to this day. The little patent leather belt finished off the look.
I'm my mom snapped this shot just to be a record of one her kids looking spit and polish because I can tell you for fact that this is perhaps the only time my hair looked tame! My hair was simply thick and wavy and wild.
Look at my hands folded all sweet for the camera. Truth is that I simply never knew what to with my hands if they weren't involved in some craftiness or mischief (building a raft to float down the nearby creek comes to mind).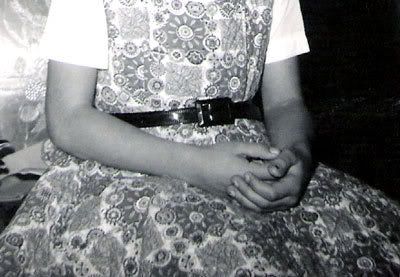 The chicken looks familiar. I have three of this type in my kitchen. The hammered alumninum tray was a focal point. My sister has this tray I believe and both of us collect aluminum ware.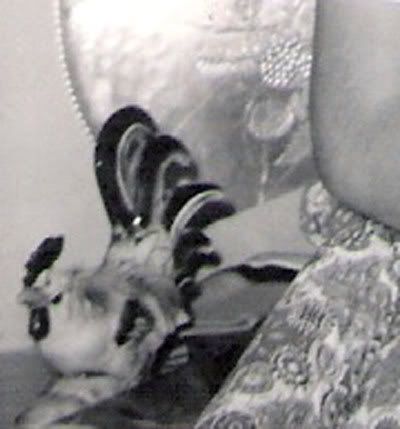 My dad built the wall of bookcases, which stood just inside the front door. If we look closely we'll see that my parents were reading Popular Mechanics, Handyman, American Home and Theatre Arts. Theatre Arts??? I'm pretty sure at this point in their lives my parents have never even been to the theater. Mom was probably putting on airs!

The curtains were modern geometric Eames era prints and the furniture was modern including a butterfly chair.
I'm wondering does anyone else has memory connections with fabrics?
Tomorrow we're going to tie up some loose ends. It will be a this-and-that post.