No, not jungle gyms....jungle bars.
Everywhere we travel we've found backwater bars and establishments that feed the farmer's adventurous "Indie Jones" spirit. On the island of Dominca we took a dugout canoe back into the jungle to a small bar/hut that served the most potent local hootch. Made from a local berry and called "Dynamite", this drink packed an amazing whallop. The dugout ride back was quite interesting. We've bribed our friends who were traveling there to bring back a bottle, but they've been unable to locate a source!
On St. Croix our cabbie Joseph drove us into the rainforest to the famous Mt. Pellier Domino Club.
Yes, it's yet another thatched roof backwater bar.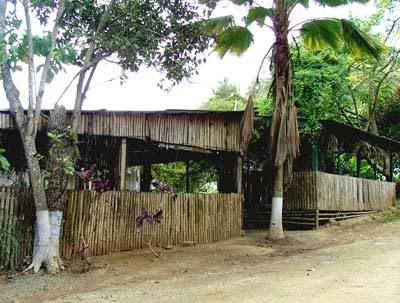 The farmer bellied up to the bar and the bartender said, "Do you want a shot of our local homemade hootch?"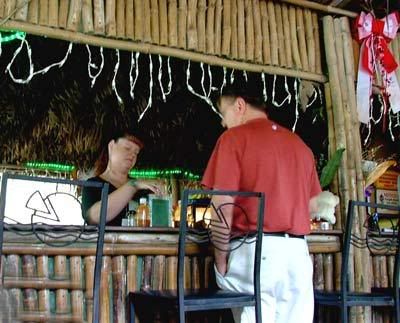 Well, heck yeah. That's one of the farmer's missions in life...to try local hootch on every continent! Here it is - the famous Mama Wanna. It's made by Mama, the owner of the Domino Club.
And no...she won't reveal the secret recipe. It's made from honey and I'm guessing some local fruit. Perhaps a type of Mead?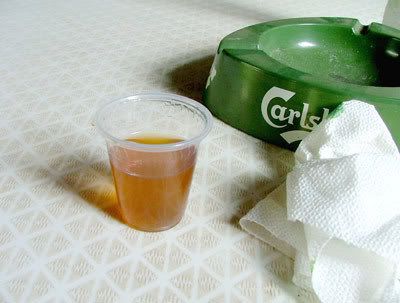 Yep, he bought a bottle to bring home and share at a party with the neighbors.
It's potent and one sipping shot will make you a little silly....talking from experience here. This is our bottle of Mama Wanna, so named because when mama drinks it, she does whatever she wanna!
The Domino Club rates as a roadside attraction because it has some beer drinking pigs.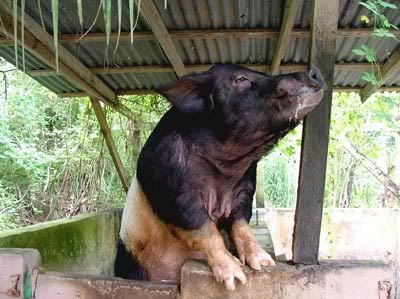 You pay a couple bucks for a can of O'Douls (non-alcoholic) and a buck or two to photograph the pigs, which of course is classic roadside attraction stuff. The pig crushes the can, guzzles the liquid and spits the can out. This was the first time I tried out the "video" option on my camera (this was my Fuji Finepix S5000).
Tomorrow we're going to discuss the importance of having dreams and bucket lists.