What is going on in the blogosphere? I've seen more photos of feet in the last month of blog surfing than I've seen in a lifetime. It's certainly a podiatrists dream.
It seems like every other blog has pictures of people pointing the camera at their feet, or someone else's feet. This is all very unsettling for me because I hate my feet, and my hands too, but that's another story. I hate, hate, hate my feet.
The only beautiful foot I ever saw belonged to my former co-worker Cheryl. That's because her feet had been pampered with a lifetime of $60 pedicures and they were always cradled in $700 Manolo Blahniks. That explains alot.
I haven't seen so many people looking at their feet since I was a kid. We spent alot of time looking at our feet back then, but that was only if we were having an attack of shyness, or lying. Certainly hundreds of bloggers can't be lying and if you're blogging chances are you're not shy. So....what is it? A trend that's just spreading like wild fire?
I'm not one for conspiracy theories but I'm thinking that Payless Shoe Source is behind this trend. Yeah, that's it. They're paying bloggers to take photos of their feet and upload onto their websites. And there's subliminal messages in there I'm sure.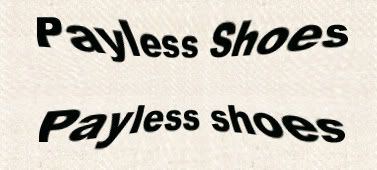 ....you feel very sleepy, and a strong desire to go shopping for cute little red flats.
Or adorable lace covered shoes with matching purses.
Or how about mules with kitten heels and silver buckles?
It must have worked because in a mometary lapse of judgment I bought those mules. The Manolo Blahniks worked for Cheryl too. She sold advertising to car dealers and let's just say they were putty in her hands when she walked in wearing those and the newspaper was chocked full of ads for luxury cars.
The only place I dare to wear those silver buckled mules is at an event where people will be drinking heavily. It's only the rare drunk who will humiliate you by laughing at your ugly feet.
Just because my camera took pictures of my feet does not mean I'm jumping on the bandwagon. I was simply trying to make a point. But as Gilda Radner used to say.....NEVERMIND.
DO ME A FAVOR - Pop over to Mark's World blog and check out his Tiki Bar. Mark was my former publisher and the best boss I ever had..... and in 40 years I had alot of bosses. Anyway, a jump in traffic and comments on the site will not only thrill him, it will drive him crazy till he figures out where it's coming from. Thanks.