Time: Spring, 1967

Place: Our home, Maywood, Illinois
How Mod can you get? This was taken in my bedroom in the old Victorian farmhouse where we lived during my teenage years. I can still remember the clawfoot bathtub and the beautiful imported English tiles around the fireplace. Last year I drove past and the house looks pretty much the same. I wonder how the interior has changed.
This is probably what you'd refer to as a "come hither" pose, which has me falling off the chair in laughter. I'm sure my boyfriend had given me those flowers and this was my was of recording the event and looking cool. I simply cannot imagine who took this shot. I know it was taken with my first Polaroid which took some awesome black and whites. (Sigh, no more film after this year). There's no way my brother took the picture. Holy cow, he would have died with laughter just at the thought. I can't imagine my little sisters cooperated in this effort. Maybe the old Polaroid had a timer on it, I just can't remember.
The canopy bed was a gift from my grandmother when I was 10. And see the sparkly pin in the center of my dress? It's still in my jewelry box along with some other pieces I'd bought around this time.
As you can see I was always into "inspiration walls". Behind me are photos ripped out of Vogue (my fashion Bible at the time). Twiggy, Jean Shrimpton (so pretty) and Cher ruled the day. Cher was such a trend setter until Bob Mackie got a hold of her.
Here's the truth about this photo. I was CLUELESS, totally clueless about anything. I was not a mess yet, but I was on my way to being a really big mess. Why? Because after this photo was taken I spent the next 20 years trying to be what I thought my mother, father, friends, husband and the general public wanted me to be. That'll get you in a therapists chair.
It did.
I worked.
Gotta better.
Found me.
Lived happily ever after. The end.
- - - - - - - - - - - - - - - - - - - - - - - - - - - - - - - - - - - - - - - - - - - - - - - - - - - - - - - - - - - - - - - - - - - - - - - - - - - - - - -

Occassionally I'm going to have a feature called, "Sweeping Out the Kitchen" in which I'll pass along little bits of interesting information that I've collected during the week. I will include things that just don't quite fit into other posts, or perhaps I'll be cleaning out drawers or closets and giving stuff away. You just never know around here. So let's sweep out the kitchen.
PHILADELPHIA FRIDA
If you're living on the east coast you might want to make plans to visit Philadelphia because Frida is coming to town! I'm sure that everyone in Philly knows about this but those of you who live a bit further should think about making the trek. In addition to her artwork there are going to be photos that have never before been exhibited.
COOKBOOK NEEDS A NEW HOME
This week I purchased some new cookbooks on my thrifting trip. That means something's got to go. I've got to make room for these new books. If you're interested in this cookbook leave a comment. I will be drawing a name on Wednesday morning.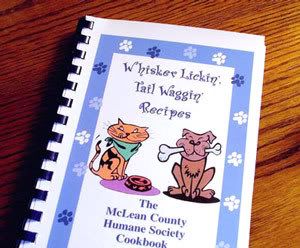 Don't be fooled by the title. Although there is a section devoted to recipes for dog biscuits and other pet treats, this book was written for humans. Compiled as a fundraiser for the McLean County Humane Society of Bloomington, Illinois, it includes recipes for zucchini enchiladas, oriental cabbage salad, Kahlua pie and more.
It can be yours. Just let me know you're interested.
That's it for Sunday, April 20, 2008. If you're listening on this date the music selection is "Green Pastures" by Emmylou Harris. This music is a classic example of what's called Bluegrass Gospel, and it's what I remember from my youth. I've been tinkering as you can see and I'd like to know what you think of Blog Music. Good? Bad? Annoying? Let me know.