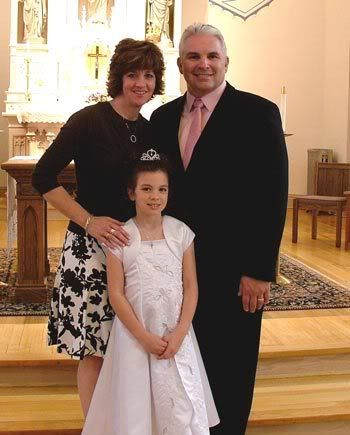 The Time: Yesterday
The Place: Winfield, Illinois
Here "At Home" means a trip in the Way Back Machine but since we went
way back
just yesterday, I thought today we would stay closer to home.
This is our great-niece Laura on her first communion day. Her parents Ron and Mary Lou are examples of the young families that I admire. They are raising five daughters together.
I hold them both in the highest esteem. Mary Lou is an amazing young woman. She is able to do what I could never seem to master, which is working full-time and handling all the responsibilites that come with a large family. She's a teacher which means she has summers off, but still it's a daunting task.
Mary Lou and Ron recently lost a close friend to breast cancer. They are terrific fundraisers and they'll be walking in a three-day event to support the Susan G. Komen Breast fund.
I noticed in this morning's paper that Target has a breast cancer promotion. They will donate 5% of net profits from the sale of certain products, and in addition they are donating $25,000.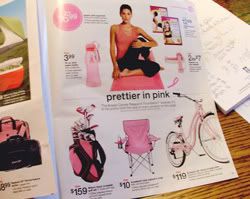 I seriously need to start exercising and I think I'd look adorable on that pink Schwinn bicycle. What do you think?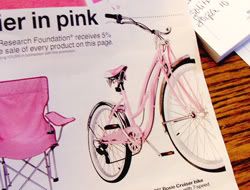 The most important thing you can do is to schedule your mammogram. Mine is on Tuesday. Have you scheduled yours?
Have a blessed day everyone.