Do your children see you as a real person? I would be very surprised if you said yes. In our children's eyes we are forever typecast as parental units. They cannot imagine that we were once young and hip.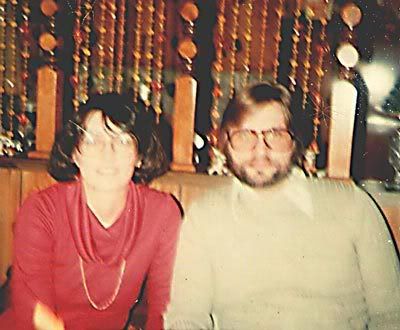 Photo taken in the year 5 B.C. (before children)
I've always balked against this typecasting and have repeatedly reminded my children that I once rode a motorcycle. A very big motorcycle. The idea seemed so shocking to them that they immediately filed it in their mental trash file. Yeah, right mom.
The Farmer and I have also discussed his skydiving adventures and my muscle cars. I'll admit it's probably a little difficult to imagine your mom taking people off the line or cleaning carburetors, but it's true.
My daughter was home from college recently and imagine my surprise when she actually started questioning me about the good old days. Is she thinking about us in a different light? That's a new development.
Her question was concerning the 60's and the 70's.
"What was it like mom? Were you there for the summer of peace and love?"
What she didn't know was that at that time I was working for a company that was under government contract.
"No, I couldn't go to Woodstock because I was busy working on a project. I had a top secret government clearance. Did you know that?"
If you want watch a kid flip out just tell them something like that.
I'm encouraged that perhaps she is understanding that we did indeed have a life before kids. And sometimes that life was pretty darn interesting.
My take on the 60's would fill a book. It's a Gordian knot and we'll talk about it more another time.
NOTE: The really bad photo of us was taken in the Other Mother's kitchen. This is in the 70's. Note the beads hanging behind us. I sewed that red cowl neck dress myself! And YES, I really did have a top secret clearance! If you're reading this on April 26th I'm playing Woodstock by Crosby, Stills, Nash & Young.