"For after the object is removed or the eye shut, we still retain an image of the things seen, though more obscure than when we see it....imagination, therefore, is nothing but decaying sense." - Thomas Hobbes, 1588-1679
The farmer has been traveling on business, which in the past, when the children were little was a great difficulty. It's not so much of a hardship without the full-time responsibility of the kids. Back then it was a struggle to maintain some type of adult identity and I can vividly remember the longing for adult companionship and conversation.
My concerns these days revolves around his health and well-being as the farmer doesn't seem to know any other speed than flat-out. He's just one of those people who give 150% every day, not leaving much for himself. Well, there is golf on Sundays but only when the weather cooperates. So today I'm thinking about him as he completes a large project at the herb packaging facility in South Carolina.
- - - - - - - - - - - - - - - - - - - - - - - - - - - - - - - - - - - - - - - - -
As you can see there's a change here at the Farmer's Wife. I've managed to patch together a new type of heading. I don't know it seems awfully large and imposing to me. I'm just an infant in the Photoshop/design thing and I'm pouring over some Photoshop books to help me out. I'm saving my pennies to have
Eight Crazy Designs
a complete blog identity for me. I simply love her designs, especially
Taffy Talk
. Oh that design is so cute!
I don't think I've ever properly introduced you to the land. Illinois is all about land. The banner photo is just one vista and I guess you need to be born on the prairie to fall in love with it's stark and seemingly neverending vistas. We've talked about our "someday" retirement to the Ouchita Mountain top in Arkansas and we both admit that our hearts will be torn from the prairie. We'll miss this view terribly!
Here's a photo I took that I used for my business card. This is just around the corner taken from the Lily Lake Cemetery. Unfortunately this land is slated to be a housing development.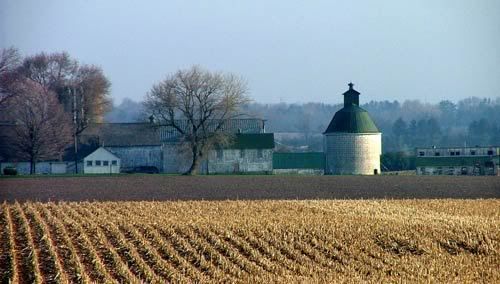 Here's the leaning silo just down the road a piece. It's better to take the long route because I.C. Trail is not paved in spots and it's a killer on the axles. Just so you understand the schizoid existence we live with development closing in....there's a Coach handbag store only 10 miles from this location.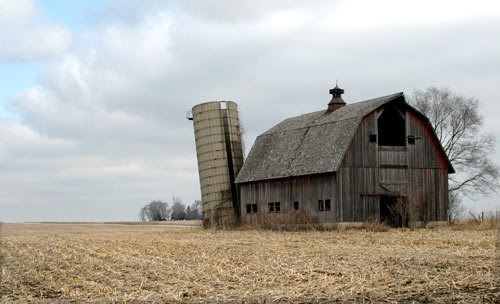 Here's the Chick-N-Dip in nearby Hampshire. They make great broasted chicken and you won't be bothered by insects because they've got those great yellow light bulbs.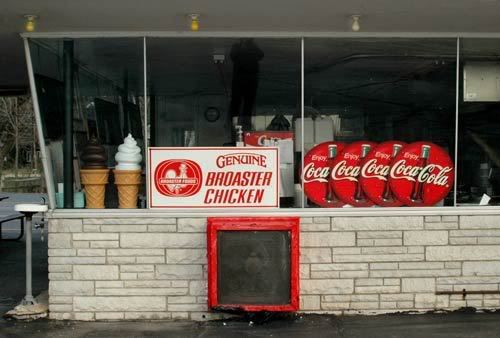 Here are two residents of the farm where I go to get my fresh eggs. I always think this photo is just crying out for a caption, so fee free to offer one.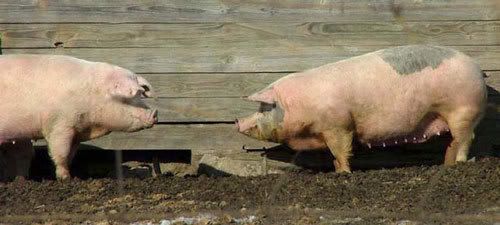 So, that's a short visit to my world. As soon as the weather changes we're going to get out and really explore. Yes...exciting stuff!!!
- - - - - - - - - - - - - - - - - - - - - - - - - - - - - - - - - - - - - - - - - - -
I promise you I am plugging along on the "Goes to Market" site. It should be ready soon with some really cute stuff...stuff you need....stuff you'll want....simply stuff.
That's all for today because I really need to get some housecleaning done. The dust bunnies are rising up and threatening a takeover!