That's the kind of day it's going to be, a real case of mixed metaphors and subject matter. What do fried oreos have to do with fonts? Absolutely nothing, but since they both begin with the letter "F" I figured it was OK to mash them together and throw in some bleeding cowboys just for fun.
My photoblog "The Farmer's Wife" has been up and running for 3 years on April 9th. Of all the photos I've posted (over 700) the most popular photo of all is my picture of fried oreos taken at the county fair.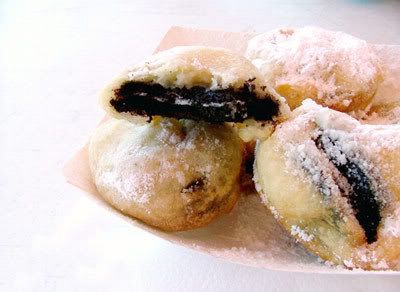 This is a little upsetting to me because I've been deluding myself that I'm some kind of
artiste
doing serious and important "art". It's sobering to realize that all the public wants is photos of stinking fried oreos! And yes, people are actively search fried oreos on Google.
We're not going to mention those bad boys in the middle east and in Indonesia who are searching naughty things that include the word "farmer" or "wife" or any number of strange combinations of those words. Shame, shame.
It occurred to me after a few years of dealing with the popularity of a fried oreo image that I didn't actually have a recipe for the treat. I figured I'd just let the vendor at the fair do all the greasy work, and besides I don't think my arteries could take it more than once a year. But sometime in January I was feeling so besotted by winter that I thought a batch of fried oreos would bring me out of my funk and so I gathered together a couple of recipes and tweaked a bit and came up with this:
FRIED OREOS
1 cup buttermilk pancake mix
3/4 cup ice water
1 quart vegetable oil
20 Oreo cookies
confectioners sugar
Freeze the cookies for a couple hours or overnight. In a heavy 3-quart saucepot heat oil to 350 degrees.
In a medium mixing bowl mix water and pancake mix with a wooden spoon until thoroughly combined. Dip each cookie into batter and smooth batter, making sure the cookie is entirely covered. Place coated cookie carefully into hot oil. Fry on both sides, turning over once until golden brown. You can fry more than one a time.
When nice and brown scoop them out of the oil and drain on paper toweling and dust with powdered sugar and serve warm.
I believe you can also use this recipe to recreate the fried Snickers bars. My teeth are aching just at the thought!
- - - - - - - - - - - - - - - - - - - - - - - - - - - - - - - - - - - - - - - - - -
Now what about fonts? I came across a site where you can download free fonts, it's called
DA FONT
. Let me tell you as a calligrapher and having spent a lifetime in the printing and graphics field this is very exciting stuff. Of course because of the generational thing I'm challenged in the area of computers. I spent a very frustrating evening attempting to teach myself how to unzip files and get them to where they need to be in order to load into my font library. Phew, I'm all worn out. I did manage but I'm sure I could repeat the feat this morning.
There are some really great fonts at the DaFont site. I love the
wild ones
because well, Times Roman is just so ...
yesterday.
I'm crazy for a font called Bleeding Cowboys, and the other evening it was listed as the number one font, which only goes to show that I know an interesting font when I see one!

Please understand that no cowboys were actually harmed in the creation of this font. The artist did this solely from his imagination.
There are lots of
beautiful font designs
available and since I'm sure you're much more savvy than me, you'll have no trouble unzipping those files. I'm told they're great for creating banners for your blog or for you Etsy site....hmmm, let em go try.
UPDATE:
I've got the hang of it. You've gotta love fonts named A Theme for Murder....

or Font in a Red Suit.

If you want to have a font made from your own handwriting, Allie Hoops can do that for you and it's only $5. Visit her at
Allie Hoops.