Those of you who are old enough to remember the old Saturday Night Live sketches with Garrett Morris (baseball been berry, berry good to me) will understand the title of this entry. And yes, Anne Klein has been berry, berry good to me. The last pair of glasses were Anne Klein's and although I went to the eyeglass place clutching a photo from their website of some lovely Ray Bans several things happened.
First of all they didn't have them in stock. Secondly they would not call other stores to see if they were in stock and claimed that although they were featured on the website they couldn't order them. "What we have, is what we have", is the solution that was offered to me. Which of course is not a solution. Having been in careers that required customer service I was appalled at this answer and I'll certainly address the issue in e-mail to corporate. Remind me to tell you the story about going for a fitting for a bridesmaid dress...I almost drew blood on that one.
The clerk was very helpful after we managed to exclude her supervisor from the conversation and I filled the velvet lined tray with lots of frames. The shop wasn't busy and I had some fun trying on all the frames with clerk Tammy as my sounding board. I'm not one of those people who agonize endlessly over a decision. Give me 3 or 4 choices, I'll make a decision and move on. At one point in my life I agonized over every small detail hoping to make just the perfect choice, and the result was ....
nothing got done!
A little back and forth between me and Tammy and I settled on another pair of Anne Klein frames. I went into my in-home photo booth, otherwise known as my powder room and clicked away. These are my new glasses.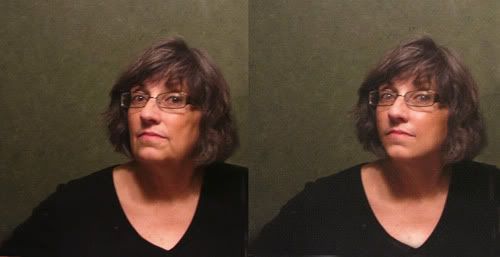 Now....the photo on the left is the truth laid bare. And on the right is the Photoshop Facelift Version 1. Just a little kinder and softer. Not that I'm getting vain in my old age. That was my grandmother, not me....no, not me!
- - - - - - - - - - - - - - - - - - - - - - - - - - - - - - - - - - - - - - -
I stumbled upon this yesterday and you really need to see this. I apologize for not making a note of who got me here, I promise to pay closer attention. This is a potholder rug and I'm crazy for these things.
CRISPINA'S POT HOLDER RUG
Crispina's website
has all sorts of fabulous things. Be sure to check out her Ragamuffins. She put herself through college making these cute creatures. But I'm just loving, loving the pot holder rugs simply because making pot holders and working on those little looms was one of my favorite activities as a kid. In fact I'm so nostalgic that when I go out shopping today I'm going to see if I can find one. I'd like to make a small rug for under the dog's dishes. I'm thinking I can make a bunch of pot holders and sew them together.
Have a great day everyone. It's sunny here in northern Illinois and I need to get outside and enjoy it before it starts snowing again. Besides, Anne Klein has given me a clearer view of the world.