It's time for a confession. I'm crazy for the dollar store. We've got a couple of really great versions around here. My favorite is next to the big box electronics store. I can go in and spend three bucks on retail therapy and feel much better.
The dollar store brings back fond memories of Woolworth's in the 1950's. I was in the fourth grade and had received some money for my birthday. Rather than spend it on ice cream from the ice cream truck, I tucked it away for my next visit to the five-and-dime.
I remember than store as if it was yesterday. There were two entrances with a U-shaped display window between them. The wooden plank floors had such a comforting sound as real shoe leather strode along the aisles. I was fascinated with the cosmetics and the hair products. My mom warned me that I was too young for a bottle of the Evening in Paris cologne in the cobalt blue bottle, but I dreamed about that Evening in Paris. Unfortunately for me, town was too far away for me to walk on my own My mom always accompanied us on our shopping excursions so it was impossible to make my Parisian dream come true.
About a month after my birthday we went to town and after all our errands were completed my mom pulled the station wagon into the diagonal spot in front of Woolworth's. The anticipation was unbearable. We weren't on a timetable, which meant I could spend an hour examining the merchandise, aisle by aisle, looking for just the perfect treasure. It's been a very long time and I don't remember how much money was involved, but it wasn't alot. Perhaps $10 in today's money but in the world of the five-and-dime it carried major buying power. If I shopped wisely there would be enough left over for a chocolate soda at the lunch counter.
Part of the pleasure of shopping for me is the tactile aspect, which is why internet shopping has never appealed to me. I need to touch, examine, turn an item over in my hand and see if it passes the quality test. That day I walked through the store, determined not to miss a thing. I briefly considered a new baby doll (Barbie hadn't been born yet) but I wanted something a bit more grown up.
It was at this point I found myself standing in front of the jewelry counter. I knew I'd found my home. You don't exactly think of a five-and-dime store as the place to find nice jewelry, but there in front of me was a tray of sterling silver rings, each one set with a birthstone. The hunt was over. I quickly found a ring in a heart-shaped design with a small blue stone in the center. I forked over my birthday cash and the ring was mine. Forever.
Isn't it odd that all these years later I still remember every detail of that store and that shopping trip? My daughter is the new owner of that little ring. The stone has lost it's sparkle but the memory has not.
I learned another lesson that fall, I learned the lesson of patience. Not long after I purchased the ring a train derailed nearby and all the contents of the box cars spilled out onto the countryside, including an entire boxcar of Evening in Paris cologne! The manufacturer claimed the entire shipment as a loss and people swooped down and claimed the cobalt bottles for themselves. One of those people was the father of my best friend Connie. Suddenly we had enough Evening in Paris to last us a lifetime!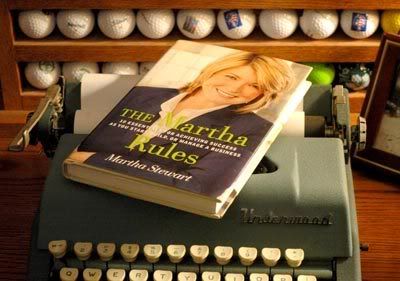 NOTE: My recent trip to the dollar store netted me a great find. They were selling Martha Stewart's book, "Martha's Rules" for only $1. I bought myself a copy and grabbed another one as a giveaway for my readers. This was written after Martha was released from prison and contains a lot of very good information for anyone who is considering starting their own business or has their own business. All you need to do is to leave a comment and let me know you're interested. I will draw a name on Friday. Don't forget that my subscriptions are FREE. Such a deal. HA.