Have you been feeling inadequate lately? Blog surfing has left me wishing I was more productive, more creative, more something!
All these bloggers are getting published, appearing on Martha, and traveling to cool places.
Pam Garrison went to Paris!
I mean
the
Paris, not Paris, Illinois. Nina from
Ornamental
has been invited to teach in Australia.
There's no way, even if I got myself together enough to actually create something, that I could accept such an invitation. Here's the problem.

Living 9 miles from anything does not require a real wardrobe and it's embarassing to go places that are considered urban. Within five minutes in that surrounding I feel like the rube that just fell off the turnip truck.
Paris or Australia are beyond the reach of my wardrobe. Heck, I can't even figure out what to wear to Chicago. The farmer asked me to take the train into the city last week. We had some business that needed to be attended to and the office was downtown. This was very stressful. He only gave me one day's notice. How could I pull together an acceptable outfit in 24 hours?
In the end I opted for the Yoko Ono wardrobe solution - all black. It's very easy. I just chose all black. Silver jewelry kept me from looking like a hick goth.
I have been working on my wardrobe problem by finding some creative solutions. First of all, I discovered that there's a career woman who donates her clothing (my size) to the local Goodwill. I've fallen into clover on this one. She buys beautiful, quality clothing and has them dry cleaned before she donates! That's my kind of good samaritan. I've built up a closet full of her jackets and some have designer labels.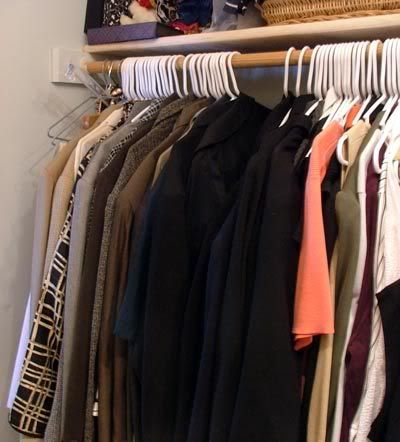 Saturday I snagged this black and white crysanthemum print jacket for $4.99.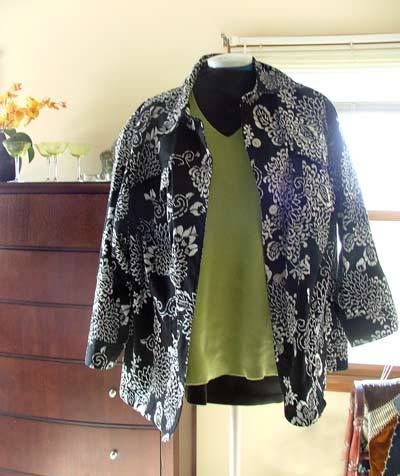 I wore it to the fourth first communion party we've attended this season. This jacket was a fashion hit. Two women stopped me outside of church to comment on it. WOO HOO!
I've left the turnip truck in the dust!
NOTE: Yes, except for a few on the end all the hangars in my closet match. This happened after watching a Clean House marathon. That show is quite motivating. The Farmer wants to know why there's a disembodied female torso in our bedroom. It's because it was only $6.99 at Goodwill.