It's Sunday and that normally means a trip in the Way Back Machine. But I'm too lazy to walk downstairs and paw through the storage tubs full of unorganized photos. I decided instead that we would go on an adventure.

INDIANA JONES AND THE TEMPLE OF WALLPAPER
Subtitle: Living in The Chicken Coop
We did a quick tour of my daughter's new apartment, making notes on what type of chemicals we'd need for our cleaning spree. Her new place is the top two floors of an old home in the historic district of Bloomington. The top floor is home to a large bedroom, a half bath with a stackable washer/dryer and a small bedroom that my daughter wants to convert into a
Kimora Lee Simmons fabulosity closet.
I'm all on board for that project. In my mind I'm already thrifting for crystal chandeliers, a chaise and a dressing table that would do my southern grandmother proud.
The first order of business with a new apartment is to buy flowers.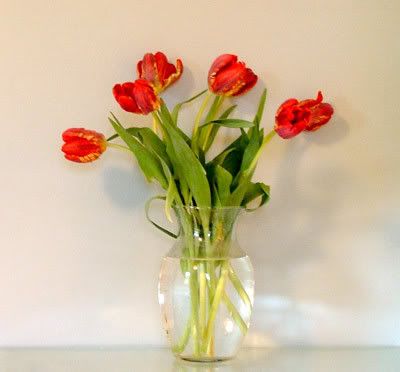 I felt bad because this caused her new boyfriend some distress. He wanted to be the first one to bring flowers to her place. Sorry!
The room was larger than I expected, much larger than the bedroom my daughter occupied in her younger days. It has a high pitched ceiling because it's in what would have been the third floor attic of the house. The view from the window is terrific because it looks out over the neighborhood, pitched higher than the other rooftops.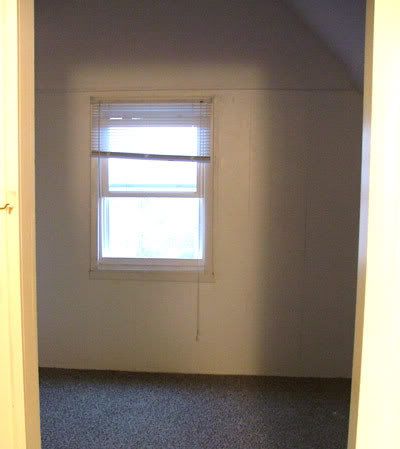 Because the entire room will be used as a closet my daughter couldn't decide how she would use the actual closet in the room. She's only done a quick tour and never opened the closet doors before. The first thing we noticed was an odd smell, very faint but very distinctive. I'd spent plenty of time at my uncle's farm when I was a kid and I know the smell of chicken feed when I encounter it. The room smelled like CHICKEN FEED!!!
This sent my daughter into a spiral of renter's remorse.
"Mom, I can't live in a chicken coop!!"
"It will be fine," I offered. It's best in these situations to attack her neuroses head on. "This place has been closed up for awhile, we'll open the windows, clean the carpet, scrub everything down and it will be fine."
Our attention had been momentarily diverted by chicken feed smells but now we turned to face the closet. We both stood like deer in the headlights. What's that???
Why it's a veritable archaeological find. It's authentic cowboy wallpaper!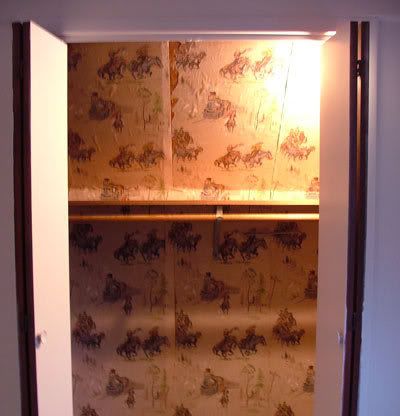 At this moment I'm feeling like Howard Carter discovering Troy. This is big. Real, authentic cowboy wallpaper in my daughter's closet. Maybe I can get one of the design shows on TV to cover this discovery.
Just the sight of this paper brings back a flood of memories. My two uncles shared a bedroom in a similar attic bedroom and the walls were papered with cowboy wallpaper. Their beds were set against the far wall and my grandmother had gotten them some wonderful wagon wheel headboards. Oh the memories!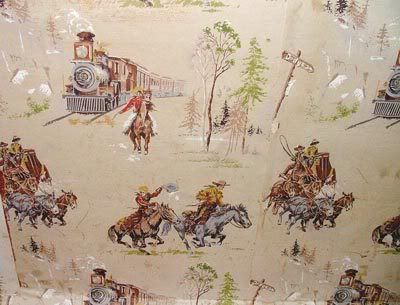 It didn't take a scientist to determine that the chicken feed culprit was the wallpaper itself. Time and age have mellowed it out and the paper has developed an odor.
My daughter swears that she'll have her boyfriend cover it with a fresh coat of white paint. How sacreligious is that? I'm lobbying heavily against such an action and have decided that my readers should have a vote, that way I'll have some ammunition for my argument.
By the way, the Poll Daddy site asked me if I wanted to block readers from voting twice. HA! I'm from Chicago and the motto there is "Vote Twice - Vote Often"!
NOTE: My daughter and I discussed my blog and she's all on board. She doesn't read it and that's a good thing. I don't think I need my family reading this stuff, they already think I'm wierd. She made me promise I'd write a story about her "Chicken Coop Apartment".