When it comes to the home, what would be in your job description? If we were to actually sit down and put pen to paper and start listing the responsibilities under the heading of Domestic Engineer I think we'd find ourselves with quite an impressive list.
I'm pretty sure we share alot of job titles, but because of our diverse lifestyles there are going to be other tasks that are unusual.
I thought about this for awhile and here are a few of my tasks that would fall under "other duties as assigned" in this household:
Lawn Care Specialist
- Responsible for mowing 2 acres, including following up with a lawn sweeper if necessary. Pruning, trimming and feeding 23 trees, spraying fruit trees. Maintaining large perennial borders and secret garden.
Carpet Cleaning Specialist
- Spot cleaning and large operation cleaning up after 1 cat, 2 dogs and me, the klutz.
Construction Manager
- Buying materials for basement rehab. Hiring and supervising all tradesmen. In charge of personally handling all grunt work that doesn't involve special knowledge, to include scraping carpet glue off 600 sq. ft. of concrete floor WITH A PUTTY KNIFE! Allowed to throw hands up in the air and declare the other 500 sq. ft. does not need scraping.
But, probably my most unusual job as home manager is:
WATER TREATMENT FACILITY MANAGER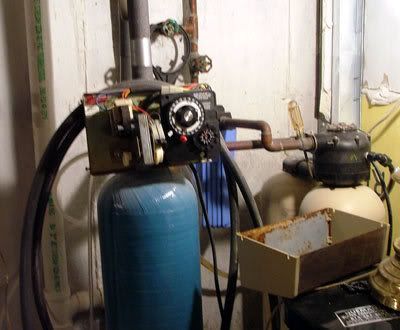 Yes, we have well water and that means we have our own water treatment facility in our basement. I'm not quite sure what all this gadgetry does, I simply turn the dials, fill the bleach tank and pray for the best. There's a water softener and a chorination unit and something else.
I love living out in the country but well water is one aspect that I could do without. How is it that I remember crystal clear and cold as ice water from my aunt's well in the Florida panhandle? Maybe we didn't dig deep enough.
I'd love to know if any of you have wierd things on your job description. I'm sure some of you who keep livestock have some doozies!!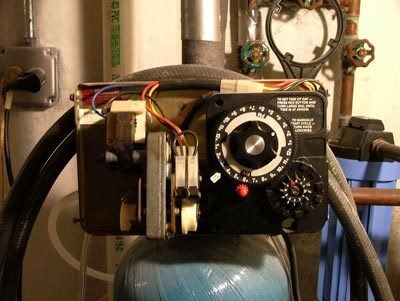 Well, I'm off to cycle Tank #3 because if I don't we're going to have sludge in the bathwater!
NOTE: I'm off in a few hours to visit my daughter at college. She's invited me to a picnic her department is having to celebrate the end of their journey through the Master's Program! I'll be back sometime late tomorrow afternoon and we can catch up with each other.