You need to pay attention to odd scraps of paper that are lying around. In the last week I've found a piece of an index card inside an old book and another scrap of paper on the ground outside the food store. You always need to pick these up because it's some of the most interesting material you're ever going to read.
One guy wrote an entire book based solely on grocery lists he found in carts and on the floors of the stores.
The bit of index card, discolored by age, reads, "Do not get wet for 1 week. Come in on X-mas eve to change dressing."
Hmmmm. Well, I'm sure it was an injury of some sort but still, I can think of many things I'd rather be doing on X-mas eve than having dressings changed.
(BTW, I do not advocate the use of X-mas over Christmas. It's just lazy.)
I'm feeling bad about the other piece of paper because I the person who dropped it will not be able to make this appointment.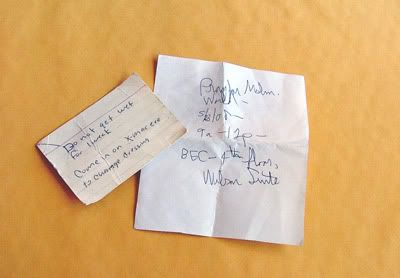 It reads,
"Pray for Muslim World - 5/23/08 - 9 a-12 p - BEC - 4th floor, Wilson Suite."
I don't know what BEC refers to, but I don't think we have to be in the Wilson Suite to pray for the Muslim World, do we? They also don't mention what we're supposed to be praying for. I think we should just go ahead and pray for the Muslim world on 5/23 between 9-12.
Just pick whatever issue you think needs attention.
Yeah, let's all go ahead and do that.