The Farmer and I recently went to see the new Indiana Jones movies. I was very excited. I wanted to love it, but I did not. I liked it but it was missing something. That special something that you can't quite put your finger on. It simply lack some spark and that makes good into great.
What I did love was Karen Allen. The movie certainly gained some sparkle when she showed up on the screen (halfway through?). My favorite Karen Allen movie was "Starman" with Jeff Bridges. I loved that movie. It was always apparent to me that Karen had spunk and an undefinable quality.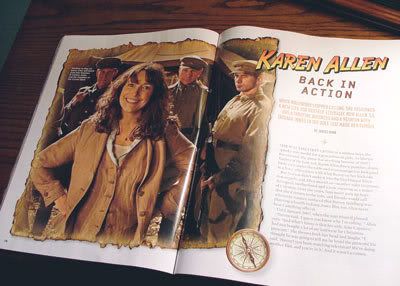 The other day in the grocery store I found a magazine called, "More". I don't remember every seeing this publication before but it caught my eye because Karen was on the front cover. I try to refrain from buying magazines because I tend to go a little overboard, but somehow it found it's way into my cart. Lesley Jane Seymour, the new editor, explains that More is about the adventure of midlife, about getting to reinvent yourself with the benefit of all the experience, confidence and style we've acquired over the years." I was very impressed with the magazine and the article about Allen.
She's 56! Holy cow, look at this photo: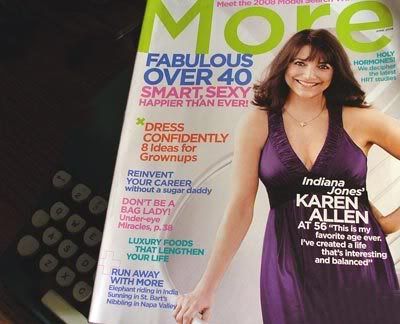 Can I have a do-over? I promise to do more push-ups.
Here's what's impressive about Karen Allen. She's never let anyone or anything define who she is. She never let Hollywood go to her head or limit who she could be and never took herself too seriously.
The subtitle of this article states, "When Hollywood quit calling, she fashioned a new life for herself."
She has found a way to continually reinvent herself and find what really makes her happy. In her 50's she found she was working less and less and decided to do something creative, so she went back to school (N.Y. Fashion Institute of Technology) to learn machine knitting. She runs her own knitting business in the Berkshires.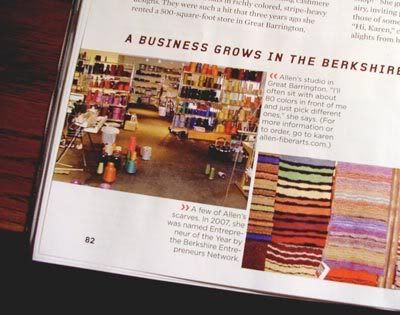 I think she's found what a lot of us are looking for, a balanced and interesting life. One of the most admirable qualities is her ability to let go. This is where I get stuck. Letting go and moving on is not one of my strong points and I'm having the greatest difficulty in reinventing myself....yet again.
Karen shouldn't give up acting just yet because I've got her penciled in to play me in the movie version of my life.
The Farmer thought that was the funniest thing he'd ever heard. The movie version of my life??? Certainly I was joking. Yes, of course I was. Maybe.