Hi SITS Sisters. Don't forget, there's a drawing for a handmade apron. Check out my
main page
for details!
- - - - - - - - - - - - - - - - - - - - - - - - - - - - - - - - - - - - - - - - - - - - - - - - - - - - - - - - - - - - - - - - - - - -
The Farmer is not a sentimental guy. I think that's true of most men and that's OK with me. He doesn't pine for the good old days and he's not sentimental about belongings. Imagine my surprise when he had a bout of sentimentality that was centered around a wedding cake topper.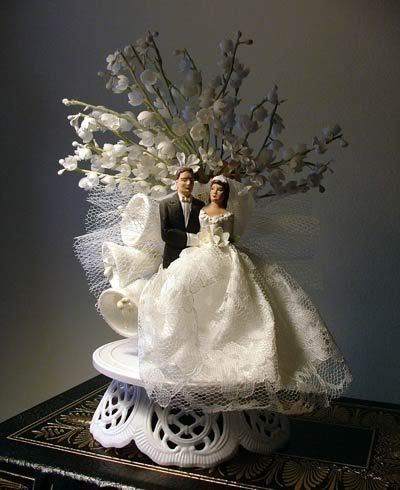 Recently I overdosed on an all night marathon of Clean House. The next morning I launched on an unprecedented cleaning spree. I cleaned and re-organized two closets and then I tackled a ridiculous 40-year old nightmare known as my cedar chest.
The cedar chest was purchased with my very first paycheck. It never actually held any typical hope chest items such as china or flatware. Instead I stuffed it with childhood scrapbooks and utter nonsense from high school. Other items were tucked inside and promptly forgotten. At this point I proceeded to drag the impossibly heavy "Ark of the Forgotten Nonsense" from Illinois to Texas and back, and then from apartment to apartment, and house to house.
Clean House helped me see the light and it was finally time to unload the Ark and move on. Most of the items were thrown away and others were set aside to donate or to be listed on Ebay. The impossibly heavy cedar Ark was given to someone who needed it.
Enter the Farmer.
"What are you doing with all that stuff?" he asked.
"I'm getting rid of it," I answered.
"What? You're getting rid of our wedding cake topper?"
I sensed true concern in his voice. This was a turn of events. After all, this is the man who couldn't understand why I was so upset about an aging rocking chair he gotten rid of. The rocking chair I'd used to rock my babies to sleep.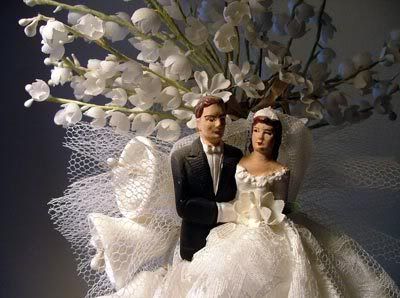 - Do you think she's giving him the stink-eye?
I hated to burst his bubble, but what the heck?
"Honey, it's not our wedding cake topper. We didn't have a wedding cake topper. This is from my first marriage. It's been lurking in the cedar chest that long! We had purple buttercream sweet peas on our wedding cake."
He was sure of one thing, it was
our
wedding cake topper and no amount of arguing would convince him otherwise. I wasn't in the mood to dig through yet another messy closet in search of our wedding photos so I put the topper in a place of honor on the top shelf of the bookcase in our bedroom.
And there it remained, until yesterday, when I dug around for a photo to include on my Way Back Machine. What's this?
Oh, it's our wedding cake. And look, it has no topper. There are some plastic doves and bells and plenty of purple buttercream sweet peas but no cake topper. Imagine that.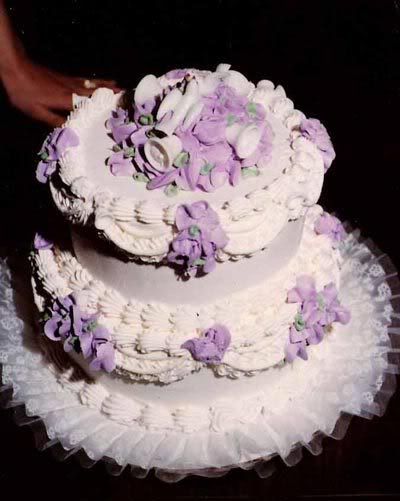 Here we are cutting the wedding cake without a wedding cake topper.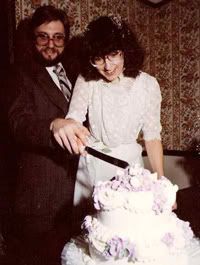 (
Pay no attention to the really ugly eyeglasses. Many years from now you too will regret your eyewear choices)

At this point I'm not even going to press the point. I'm pretty sure he would insist that someone removed the topper before the photos were taken. That's how stubbornly he holds on to his ides.
And besides, who am I to discourage a man who is sentimental about a cake topper, even if it wasn't his?