When the Farmer and I travel, we can spot the German tourists a mile away. How? German Engineering, of course.
The Germans are the ones with the crazy cool eyeglasses. I've never known exactly how to explain it. They're sleek and Euro looking with a techno-edge. They're just different.
I thought my new Anne Klein's were pretty cool, but no! My friend Leslie, who hosted the pig roast on Saturday, has a large contingent of German friends, and this woman showed up at the party wearing these: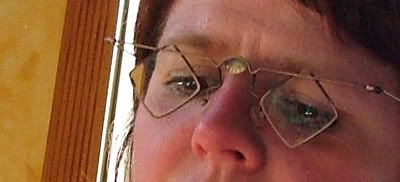 I was instantly crazy for these glasses. The have a bit of the mad scientist about them.
Since I started wearing glasses in the fifth grade I've developed a passion for frames. While other women are addicted to handbags or shoes, I'm jonesing for Ray Bans. I've never been able to wear contacts and when I was a teenager I wore cutting edge eyeglasses as a way to express my individualism.
I asked her where she got the frames, knowing I'd probably have to find a part-time job to support my habit.
"Germany. My friend designs eyeglasses," she replied.
Darn it!! The Farmer will never agree to a plane ticket to the Rhineland.
I've got to run. I'm going to tinker in the workshop with some titanium and a spot welder. The lenses will pose a bit of a problem though.