My apologies to Willa Cather for pilfering her title. The subtitle for this entry could be "Oh the Joy of Illinois".
What I want to talk about today is the tendency of people to romanticize the idea of living in the country. I know this subject first hand because years ago when we lived on a tiny suburban lot I lived on a steady diet of
Country Living
,
Country Home
and any other "country" magazine I could get my hands on. Over time you build up this highly idealized vision of what living in the country means.
Think about those magazine spreads depicting lovely luncheons on a sweeping lawn or a spectacular dinner under the stars with a metal gazebo draped in diaphanous fabric and a beautiful wrought iron chandelier suspended over the table ablaze with candles. My only question is, "What are those editors smoking?" Maybe they can share because I've got a headache that could use some illicit drugs.
What's causing my headache? Well, I spent most of the day doing a dry run tile layout in my basement in preparation for tackling the tile installation job by myself. Yeah, I'm crazy that way. When I went upstairs to take a shower and change my clothes I was met with a sight that was upsetting but not unusual. My beautiful dark bedroom furniture was obviously very dusty. I ran my hand across the top of the dresser and came up with this: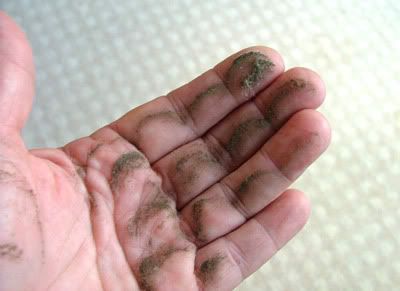 I know what you're saying, "Wow, that's one really terrible housekeeper!" And that's where you'd be wrong because I dusted my furniture first thing this morning! Which means there's been a perfect storm of conditions here in northern Illinois.
After making the bed I opened all the windows because it was already getting warm and the humidity was rising. I took the time to dust the furniture, had a cup of coffee, checked my e-mail and proceeded downstairs to work.
One of the distinctive features of the Illinois landscape is the wind. Yes, the wind is as much of the landscape as the prairie plants or trees. It's always windy. If it's not windy we get a little nervous because it usually means something bad is going to happen (calm before the tornado bad). Today was exceptionally windy with gusts rising to rival tropical storm levels. Couple that with the fact that due to weather conditions the crops have been recently planted and the fields are a little dry. So what I wiped off my dresser this evening was a nice layer of black Illinois topsoil.
Back to the problem of romanticizing life in the country. People are moving to our area in droves. They're all looking to capture their little bit of rural paradise. But the problem is that the reality is not living up to the magazine version. When I worked at the newspaper we would get some amazing letters to editor. New residents living in subdivisions that were soybean fields last year would write and complain that those darn farmers tilling the fields just to the west were creating clouds of dust. They were having to dust their cherry dining room sets twice a day! Couldn't something be done about those farmers?? I am not kidding.
We also received letters about the pesky hay wagons whose slow progress down the county road was causing people to be late for their dinner dates. And the most shocking continues to be those new residents who insist on leaving their small pets unattended in their yards. Did I mention we share the land with coyotes?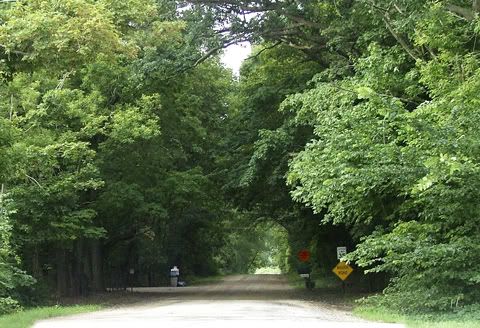 - One of our rural roads. Doesn't that just take your breath away?
The biggest problem is that people move here without having the temperment needed to thrive in a rural setting. It's rarely magazine spread material. Nothing is staged for camera shoots. You need to be able to bail water when the electricity goes out, and be willing the following day to shell out big bucks for a generator. Then you're going to need to know how to fire up that generator, in the dark, in a storm, with one hand tied behind your back.
We have learned the dichotomy of living in the country. You learn to be self-sufficient in almost any situation BUT you know that neighbors will pitch in to help at a moment's notice.
It's true, I was once one of those people who believed that living in the country was a magazine spread. What I found is that it's so much better than a magazine could ever portray, except for the fact that now I must dust every piece of furniture in the house!
NOTE: To be honest with you in a lot of circles we wouldn't even be considered rural since we live only 50 miles from a major metropolitan area (Chicago). I read a blog that's written by a woman in Missouri who lives 45 miles from the nearest cell tower. THAT'S RURAL. I guess there's stratifications of rural. Who knew?