As I mentioned yesterday, Donna's front garden is planted with all white flowers. But the back gardens, which sweep away from house are punched with color. The peony that we saw yesterday is one of the more colorful. They were originally in a 40-foot bed and that's alot of peonies!
Here are the hollyhocks, which were also among the original plantings. These aren't blooming yet, but they are colorful and happy flowers.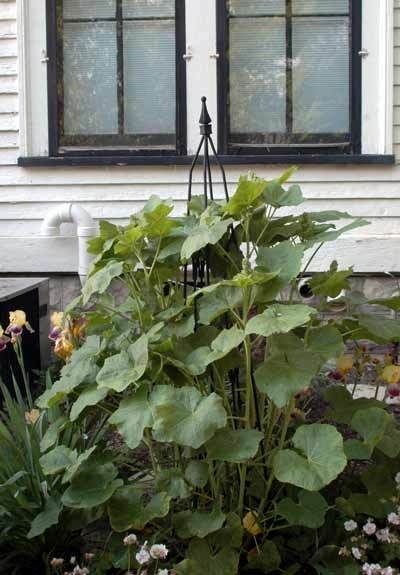 Here's a lovely rustic birdhouse bench that's just next to the old milk house. That's another hollyhock on the left, with the large leaves. Donna's garden is planted so that there's something in bloom throughout the summer.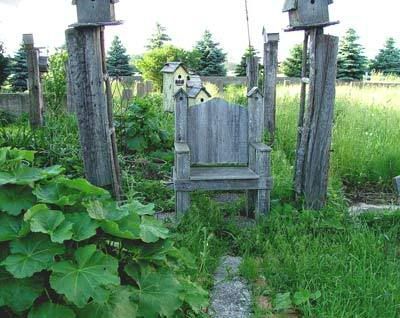 Inside the milk house Donna has created a vignette of dried flowers and a garden sign.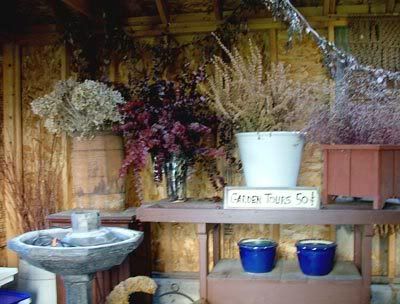 Here's the milk house. The open farm fields are just behind that row of evergreens.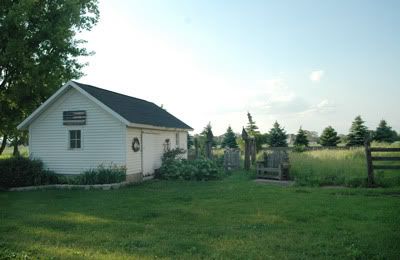 Ferns were also on the grounds when Donna moved in and these have been split and relocated to several areas including this nice display next to the horse barn.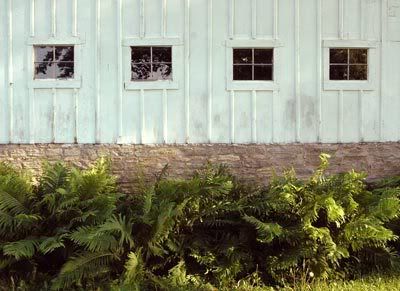 Here's a hydrangea next to a colorful petunia. I don't know about you but I've never had luck with hydrangeas. These flourish!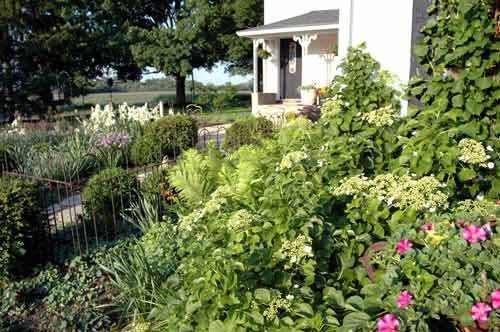 The view from the back of the property if so lovely. It just draws you in, the gardens nestling close to the house.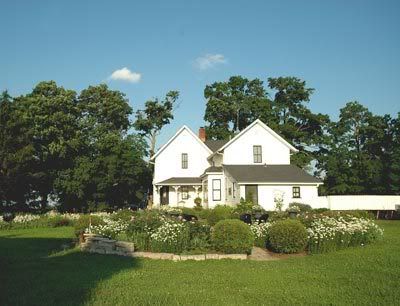 If you have a copy of
Cottage Living
you'll recognize the corn crib. Unfortunately the clematis vines that are shown climbing up the sides did not survive the winter and Donna has had to replant and start from scratch. Such are the challenges that a gardener faces.
The hundreds of irises that encircle the corn crib are from one single clump that was given to Donna over 20 years ago.
Another look at those peonies putting on their show.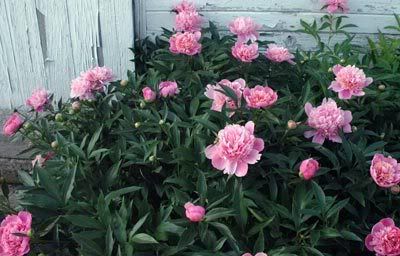 Star of Persia.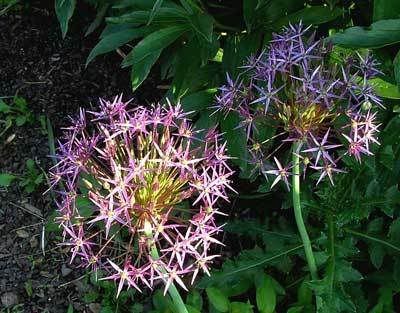 And another look at the beautiful plantings along the path leading to the back of the home.
Yesterday someone asked if Donna maintained these gardens by herself. Here's her answer:
"I do have help once a month with trim work, weeds, etc. I do cut grass and weed myself. And depending on the weather, I water (by hand) alot."
I'd like to thank Donna for graciously agreeing to open her gardens for a private tour just for the readers of "At Home...". The beauty of her garden is that no matter when you visit you'll be greeted by something beautiful. Believe me, as a midwesterner, even the garden in winter is stunning.
I'd also like to thank my readers for coming along for a little slice of rural Illinois. I hope you enjoyed the tour as much as I did. I'm feeling all inspired. Perhaps tomorrow I'll go out and pull some weeds!