Do you have any mysteries in your house that defy explanation?
On Tuesday evening I hosted dessert for some of my friends in the neighborhood. Once a month we get together and meet at a local restaurant for dinner. After dinner we gather at someone's home for dessert and it was my turn to serve as hostess. I'll share photos and a recipe in the near future but right now I'm wondering if housecats eat cake.
I baked two pound cakes, a sandcastle cake as a design element for the table (to be eaten later) and a loaf style pound cake which was for slicing and serving. It was late when the ladies left and I put everything away except for the sandcastle cake. I left it at the center of a dining table. The nearest chair was sitting about 2 feet from the table which would rule out a snatch-and-grab by the Chihuahua's. Pancho is especially known for his table hopping, dinner stealing antics, but the distance between the chair and the table is beyond even his considerable talent.
This is the scene: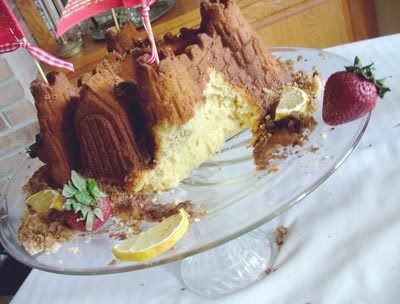 My CSI skills say that there's only one culprit that can be the perpetrator. Sparky the cat. And then I remember that this morning I found a pile of kitty gack on the carpet. It was the color of his dried cat foot but it certainly could have been mixed up with Sandcastle cake and brown sugar sand.
BUT.....I on the other hand I can''t rule out the tag team possibility. This has been known to happen before. The dogs bribe the cat with promises of future favors. In return the cat bats food off the table and they scramble around and gobble up the evidence. They're a sneaky bunch I tell you.
Dang. If it's not one animal creating chaos around here it's another or a combination of all three. The animals seem to have picked up where the kids left off.
So what nonsense have your pets been up to lately? I'll venture a guess they haven't chowed down on a Sandcastle cake!!!