I'd love to invite all of you over for dessert. If only we weren't separated by the miles we could all share some cake and coffee and catch up on what's going on in our lives. But we can certainly do that in a cyber setting. So join me!
I'll have to admit that I spent many years being terrified of entertaining. But I had a wonderful mentor who told me to relax and enjoy the experience. The secret she said, was to be prepared. And she was right! As long as you're prepared you can really enjoy the evening.
When I'm having a party I make two lists, a shopping list and a to-do list. It's that easy. I get all my serving pieces together and ready to go and I decide what I'm going to serve. The food is prepared as far ahead as feasibly possible. For the dessert evening I decided to keep it simple by serving pound cake, ice cream, strawberries, whipped cream and chocolate sauce. The guests can feel free to put everything together in whatever combination they wish.
But since it's summer I decided to drag out one of my $30 cake pans. I'm generally a frugal person but the devil made me buy this:
After my last fancy cake disaster I decided to spray liberally with PAM and stand guard over the oven. (The last time the oven inexplicably shut off somewhere in the middle of the baking process!)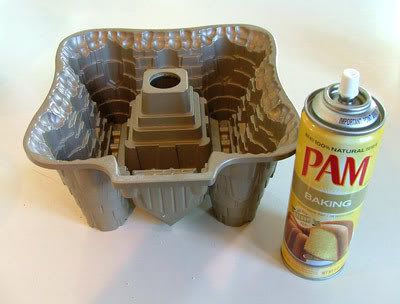 I've got lots of pictures to share today so I'll spare you the pound cake recipe. Use your favorite recipe. A buttermilk poundcake works very well.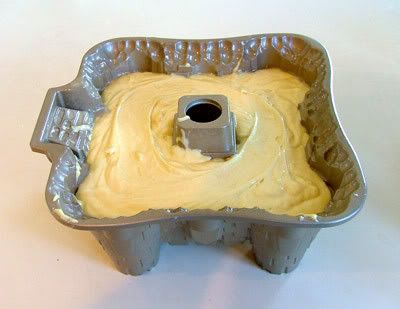 Just when I thought I had everything covered I discovered that the thermostat on the oven was not working properly and I ended up with a very dark brown sand castle. This castle has definitely had too much sun! Oh, and the little porch broke off.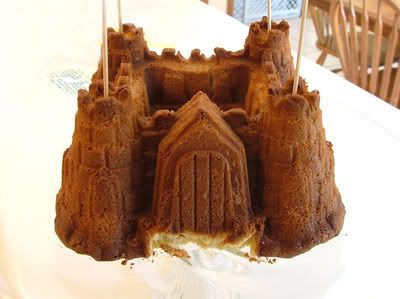 Let's not be deterred by such matters. For those of you who commented about the complexity of a sandcastle cake....it's not at all complicated. Here's the beauty of a fancy cake pan. It does all the work for you. And even a very dark brown cake can look a little better if you tart it up a bit. I always use brown sugar or turbinado (raw) sugar for the sand. So cute. But this time I added whole strawberries and lemon slices for color. The flags are just bamboo skewers and a length of wide ribbon.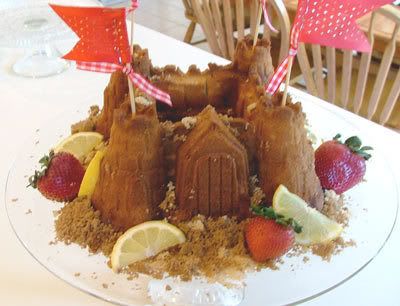 Early in the morning I snuck into the garden and cut these peonies. Luckily the were still OK. This is probably their last hurrah. In a day or two they will be toast.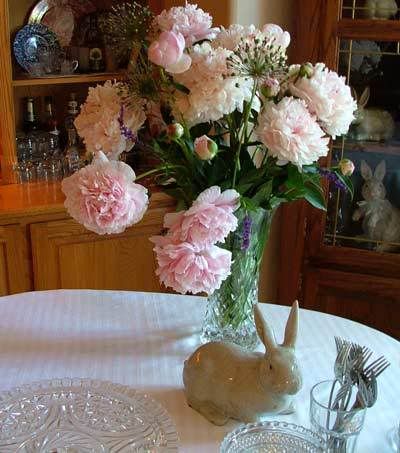 The day of the party I set up three stations. The beauty of setting up different stations is that you don't have everyone clumped together in one space. I have so many interesting serving pieces that I decided to let everyone choose what they wanted to eat from. Here are some vintage glass luncheon plates with the space for the matching coffee cup. I love these. I made these pink gingham napkins several years ago and they've been used many times. The tablecloth was $2 on clearance many years ago. This is the first station.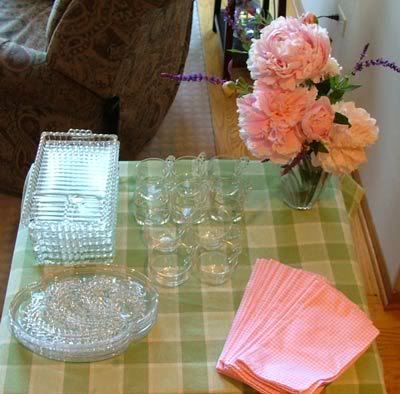 On the table where the desserts will be displayed are some green leafy dishes and pressed glass bowls. (All thrifted items) This is the second station.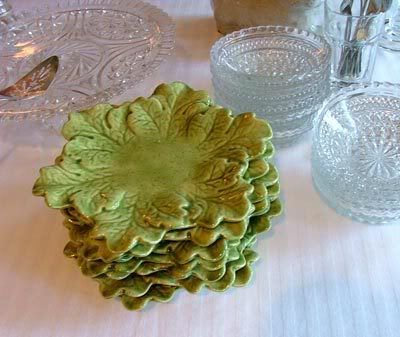 The coffee pot is set up in the wet bar area (third station), allowing everyone to help themselves. Remember, I want to enjoy the evening too!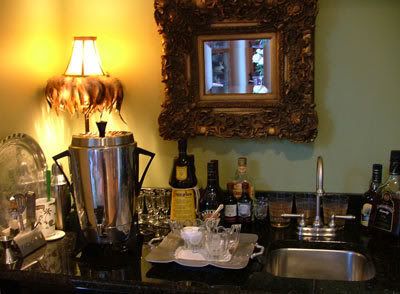 The table is ready. Just before the guests arrive I'll whip the cream and bring out the desserts.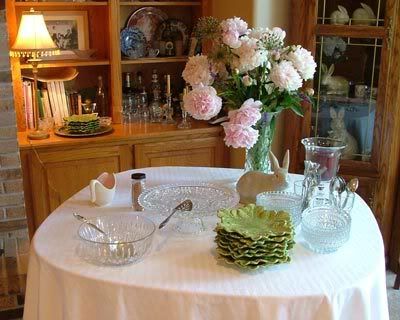 I'm going to be serving ice cream and I don't want to stand at the table scooping. Here's what I devised. Get two bowls, one smaller than the other. This is a trifle bowl and a clear mixing bowl. Put the smaller bowl inside the larger one and fill the space between the two bowls with water. You'll need to put a weight (can of soup) inside the smaller bowl to keep it from floating. Put these into the freezer and allow the water to freeze.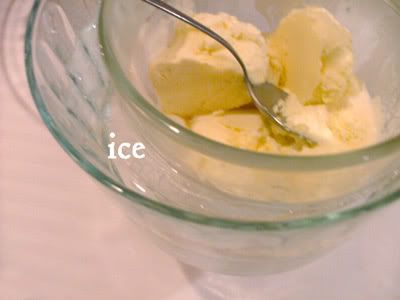 Scoop your ice cream into balls. They don't have to be perfectly round. Line them up on a cookie sheet lined with waxed paper. Put in the freezer until time to serve. Put all the ice cream balls into the frozen bowl and they stay cold for awhile.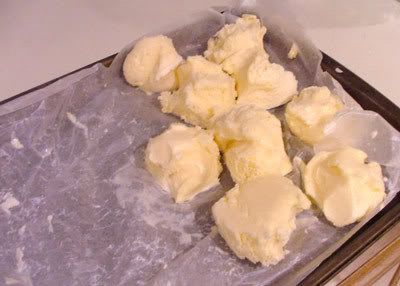 Light your candles just before your guests arrive. Plug in the coffee pot.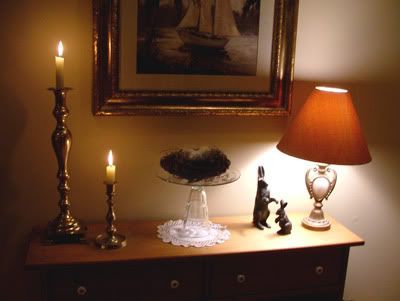 Bring out your food....and enjoy yourself with your guests!! Having a party is also a great motivator in getting your house clean and organized. This party pushed me to do some long overdue maintenance cleaning in this room. I love to entertain and when I follow the blueprint I'm rarely, if ever stressed.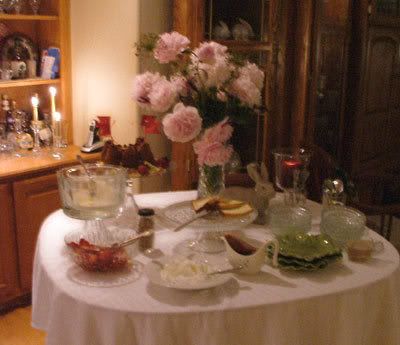 I'm really glad you could join me for dessert, even if it was only cyber!