Several people have requested the recipe for my pound cake. I came upon this recipe over 30 years ago. It's my favorite. The buttermilk makes it very moist.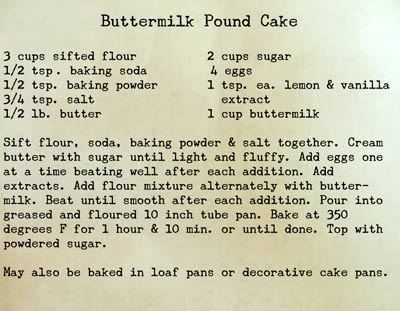 I always have to laugh when I share a recipe because it reminds me of a friend who would beg her mother-in-law for the recipes of her husband's favorite dishes. The mother-in-law would say, "Oh, of course dear" and would write out copies of the recipes. My friend always felt inadequate in the cooking department and her husband would always say, "It's good, but just not like my mom's."
My poor friend found out many years later that her mother-in-law had left key ingredients out of each recipe, this ensuring her own status as "Queen Cook" in the family. Oh my, how sad is that?
I've also had inquiries about the sandcastle cake pan. It's made by Nordic Ware. I got mine at Williams Sonoma. I checked out their website and they have
lots of really cute pans
, but not the sandcastle. I did find another site that carries the
Sand Castle Cake Pan.
It makes such a cute cake for children's parties and there are lots of decorating possibilities.
This is going to be a light blogging day because we're going to be heading out to
another pig roast!
I promise exciting things in the next week. I've been busy whipping up lots of blog fodder. The historic home was finally moved and I've got the pictures and videos to share. You haven't lived until you've seen a two-story house ambling down the road. It was like a house parade!
Also, we're going to have a serious discussion about a problem that we will all be facing in the next few years. Aging family members and the difficulties that arise as they get older. I'm finding that these difficulties are compounded by our own aging issues. A heavy situation is brewing here "At Home..." and it's one that is poised to change someone's life profoundly. I'm a true believer in sharing problems and seeking solutions together. Stay tuned for more in the next week.
I hope you have something wonderful planned for the weekend. Summer is short. Winter will be here before you know it, so let's get out into the sunshine!
Thank you for visiting!