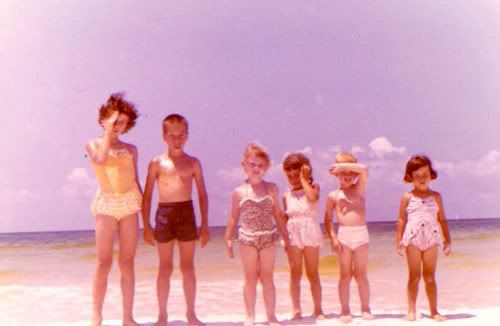 The Time: Summer, 1958
The Place: Silver Sands Motel, Panama City, Florida
This photo brings back an incredible number of memories. Isn't it funny how much of our childhood is lost in the fog of time and yet some things remain crystal clear. I suppose it's a sign of aging.
There's nothing on the back of the photo to identify the time or place, but I don't need a reminder. It was burned in my memory by the hot summer sun.
We had made our yearly trek to Florida with another family, Bob & Helen Gulley and their children. They stayed at the Silver Sands Motel on the beach in Panama City and we stayed at our Uncle Jack's beach house.
The sand on the gulf coast is as white as salt and the water is clear and blue. I can smell the suntan oil that our mom slathered all over us. I'm shielding my eyes from the sun because I'm not cool enough to have shades. My brother (second from the left) is employing his best Lloyd Bridges Sea Hunt stance. See the three kids in the middle? Well, in the middle of the middle kids is my sister Cindy and she's looking crabby. On the right is my baby sister Pam. She is so stinking cute.
Here's a close up of Pam: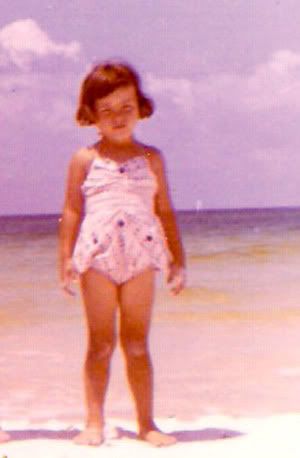 Look at that bathing suit. My mom made alot of our clothes, but judging from the complexity (the ruching) I don't think she made our swimsuits.
The Silver Sands had huge inner tubes that had the name of the motel painted on them. We used them to float in the shallow water.
What's that silly music you're listening to? (If you're reading this on June 22nd, it's Shep Wooley's Flying Purple People Eater.) It was the big hit that summer and we sat at the outdoor snack bar and begged my dad for money. We played Purple People Eater again and again, until the adults cried for mercy.
It was a fun summer vacation and one that I never forgot.
Did you have a great summer as a kid? One that was unforgettable?