Look, I've been tagged twice! Once by my
Grammar Nazi, Paula
and also by my favorite Canadian and editor of
The Liberty Post.
I better get hopping on these assignments. But first, I'm going to have to close the windows here in my home office. It's very overcast but a mild and lovely day which is perfect for open windows. The problem is that right outside is a huge bank of Miss Kim Lilac bushes and I'm getting nauseous from the smell. These are stronger and more heavily perfumed than the traditional old fashioned lilacs I have out by the road. So, wait a moment while I close the windows. GACK....
Paula has tagged me to list 7 little known things about myself. I think I did this once before, but I'm too lazy to look it up in the archives. Besides, perhaps this will force me to come up with some new material. The Liberty Post has tagged me to come up with 6 things about my country. That's going to be a bigger challenge, and then again maybe not. I was trying to figure out a way to combine the two, but again, I'm lazy today.......no, as you'll discover I'm just plain lazy in general.
First the Seven Little Known Things About Myself.
1. My photoblog,
The Farmer's Wife,
won the Agricultural Preservation Award from
Garfield Farm & Inn Museum.
You cannot imagine my surprise when I received an e-mail from it's founder and director Jerry Johnson. I was fairly new into blogging and in those days there were not many people that recognized the possibilities that blogging presented. Jerry and the Board were kind enough to acknowledge my efforts in making a visual record of the sweeping changes to our rural communities with the onslaught of development. My family was a little taken aback, as they had mostly laughed off mom's little hobby. Mom's little hobby ended up winning an award whose past winners included the Museum of Science & Industry in Chicago. Knock me over with a feather. Through the entire process I kept thinking, "No, they're mistaken." At the awards dinner I had the feeling that any moment they would realize their mistake. Disbelief turned to terror when I realized I would required to make a speech after I accepted the award. YIKES!!!!!! Here's one of my photos: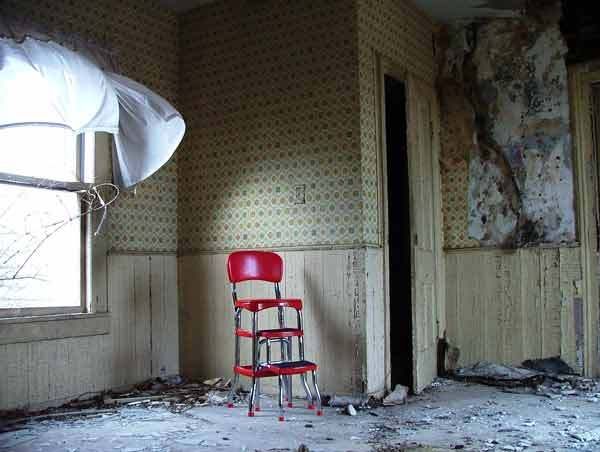 2. The Farmer and I are astrological opposites. I'm Libra with Sagittarius rising, and he is Sagittarius with Libra rising. Someone's always in the party mode and the other one is always in the homebody mode.
3. As an undergrad studying Anthropology I was fortunate enough to have been bopped over the head by
Margaret Mead.
Really! She whopped me with her walking stick! Why? She said I was impertinent. HA. My friend, anthropologist
Ellen Fitzsimmons Steinberg
told me how lucky I was. She'd been clunked also. I guess you had no status in the field unless Margaret Mead has whalloped you! (Ellen's has written several books. Check them out. Also check out her husband's page. Jack is one of the world's leading authorities on Neanderthal skulls).
4. Early in my career I held a Top Secret Government Clearance. I don't know if that phrase should be capitalized, but it's so cool I just had to. Try telling your kids that mom had a top secret clearance and see what type of reaction you get. Well, after they stop laughing.
5. My favorite mode of transportation is my Cub Cadet lawn tractor. My new machine has a cup holder!
6. I've owned a litany of fabulous cars. I love cars. Let's see; 1970 Chevelle SS396, several Camaro's, Corvette, MGB, 1962 Ford Falcon station wagon, Karmann Ghia (one of my faves), 1972 Old Ninety-eight (the aircraft carrier), Honda Prelude and much to my children's amazement, a 750cc motorcycle.
7. One of my first blog's was on Typepad and was called,
Ruby's All American Bar and Grill.
I created an alter-ego, a fictional character called Ruby. It was fun because Ruby could say things I'd never get away with. Why? Because she what's affectionate called an "old broad", and old broads can get away with alot. I kinda miss Ruby and Leon! Yes, (sadly) that's me in the photo, heavily made up, with my cat's eye glasses and one of the Chihuahua's.
Now......if you're still awake we'll move on to the six things about my country.
1. OPPORTUNITY.
My great-great-great grandfather Robert Nesbitt was escorted out of Scotland by the English King. Can you imagine leaving your home and your family, knowing you will never see them again? All you're left with is the hope of some kind of
opportunity.
The chance to have a fresh start and build a new life from scratch, out of literally nothing. That's what he and three of his brothers did. Scots were evicted in droves and landed in Ireland. This was just a way station till they could board ships to the new world, which was not yet America. He and his brothers fought in the revolutionary war against the aforementioned English king. The audacity of the King. Kick me out of my country and then follow me to the new world and tell me how to live my life....AGAIN. NOT!
2. OPPORTUNITY.
Opportunity
to start a new local government on the land that was deeded in payment for service to the newly formed America. Dickson County, Tennesse was organized on March 19, 1804 in Robert Nesbitt's home. Court sessions were also held in his home until the courthouse could be built.
3. OPPORTUNITY.
At first glance there's not much future for the orphaned child of two hardscrabble peanut and cotton farmers in the Florida panhandle. But in this story there's evidence of another fascinating trait of Americans - the habit of reaching out to help others. Friends from the Chicago area offered an extra room in their home so that my father would have the
opportunity
to finish high school, which otherwise would not have been possible.
4. OPPORTUNITY.
The opportunity to serve your country. My father served in not one, but two wars. He served in World War II and was called back into service for the Korean War. Never once did I hear him speak a word about having lost some of the best earning years of his life. It was his duty.
5. OPPORTUNITY.
Following the fall of Saigon our area was flooded with refugees. I was working at a college at the time and I was stunned and put to shame by the incredible resiliency and hard work exhibited by people who arrived here LITERALLY with nothing but the clothes on their backs. They were faced with, not by the mythical streets paved with gold, but by the
opportunities
that lay before them. Would you be surprised to know that many are now millionaires?
6. OPPORTUNITY.
What is missing in many parts of the world? In our travels through Central America and beyond, what to people tell us they long for? U.S. Aid? HELL NO.....they want the opportunity to make a better life for their families. They would risk death in tiny boats and swim across dangerous rivers or walk through broken glass for
opportunity.
One of the most poignant stories I ever heard was recounted by Carl Sagan. He told the story of his grandfather, who without the benefit of opportunities was left with the only thing available to him. He was a beast of burden. Literally. He would carry people on his back across a dangerous river. That was his life's work. And his grandson? Opportunity made all the difference in the world.
Thanks ladies for this chance to ramble on. I'm going to take Mary's position on tagging. If you want to be tagged, consider yourself IT!!!!
SORRY! That was alot to bite off in one post. Whew, that's a lot of info. If you made it to the end I'd like to thank you for your perseverence!