Let's go to the fair. I couldn't find my cowgirl boots anywhere, so I was forced to don my pirate shoes. They were Payless Shoe Orphans. Nobody would buy them and as a result they were marked down to $1.99. The price was right so I adopted them. They would prove to be very comfy and protective in the harsh environment of the fair. One of the first things I spotted at the fair was a woman in a very chic hat and kitten heels. You gotta wonder about her choice. The fair is a mine field of sharp gravel, dust, dirt, and cow/goat/cattle/chicken poop mixed with straw. I hope those kitten heels are easy to clean off.
Look at how long that grass is. It needs to be cut, but remember.....I drove the tractor into a hole.
The goat judging was underway when I arrived.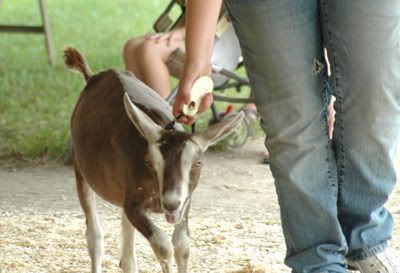 A word about goats, they're not the best behaved animals. One was attempting to eat the tent and this one was doing some type of wild dance. Yes, that's a goat that has jumped about 2 feet straight into the air. This poor woman was doing her best to keep the bad boy under control.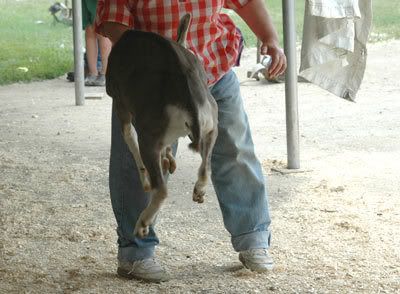 Here's a judge checking out this entry. Look at all the ribbons in her pocket. Good job!!!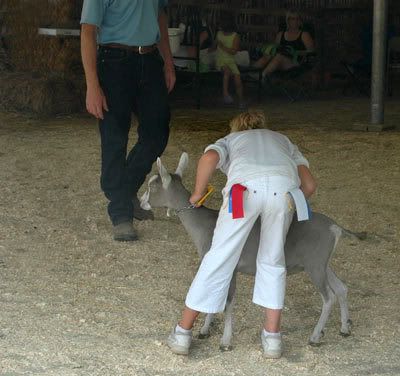 There are gigantic fans everywhere, and the loud hum of gas powered generators running the fans in an attempt to keep the animals cool.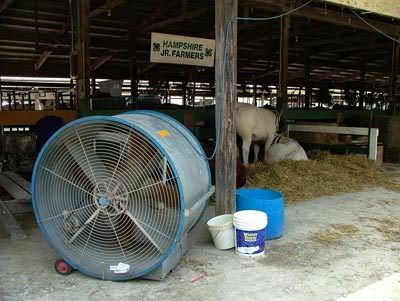 Here's an example of barn decor. Some families make it a home away from home. This display was put together by the Vaughan family who have 50 milking cows on their Century Acres dairy farm. This family business has been in operation since 1927. Many of the northern Illinois dairy farms are a thing of the past and I'm happy to see people like the Vaughan's continue the family farm tradition.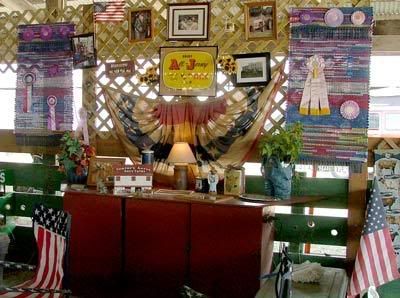 And yes, some of the young people sleep in the barn with their animals.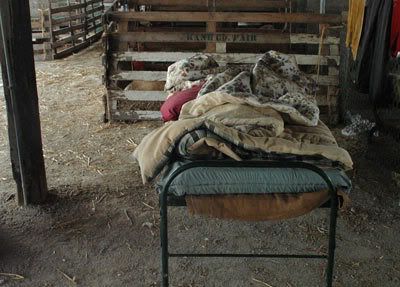 This is just a taste of the fair. We're going to skip the Way Back Machine tomorrow and continue our tour of the fair. There are more animals, including the Jersey Girls (Heidi will know what I'm talking about), fresh produce and more!!
Join me tomorrow....but leave those kitten heels at home and bring your appetite!