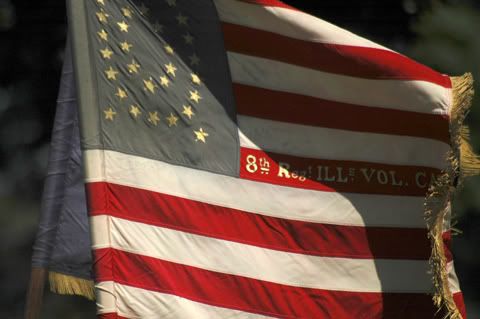 This is the flag of the
Eighth Regiment Illinois Volunteer Cavalry.
The Farmer and I visited Charleston, South Carolina for the first time six years ago. We love the city, the history, the architecture and the food. We literally ate our way from one end to the other.
We are both history buffs and Charleston held two personally meaningful historical locations. The first is a grave on the grounds of Fort Moultrie at the head of the harbor. My grandmother was a Seminole Indian and
Osceola,
the legendary chief of the Seminoles is buried just outside the Ft. Moultrie battlements.
The second historial location on our tour was Fort Sumter, an island at the mouth of Charleston Harbor. It was extremely hot the day we took the boat out the island, which is actually a large treeless rock. It's quite hot and quite barren. Despite the heat I was treated to a sight that held great significance for me.
My great-great-great grandfather Robert Nesbitt arrived in 1767 from Scotland. His ship landed in Charleston harbor and this was his first view of what would become his new country. It was very moving to stand in this spot and remember his arrival in the new world It was not yet the United States. He was only 9 years old at the time and nine years later he would serve in the Revolutionary War and be a part of the rebellion that would form these United States.
As was the custom, he was paid in part for his service by a land grant. Him and his brothers were deeded land outside what is now Charlotte, Tennessee.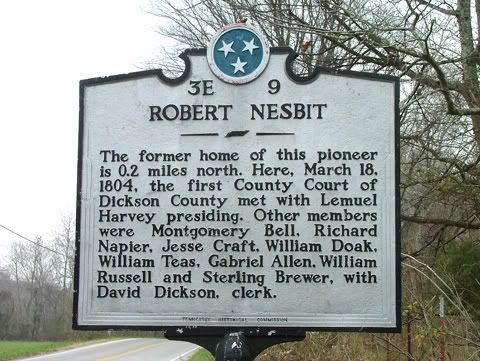 He built a log home and it was in this home in 1804 that Dickson County government was forged. The circuit court was also held in his home until a courthouse was built.
It's important to remember the sacrifices that were made and the hard work that was involved in forging America.
Happy Fourth of July!