Good morning! Welcome to the Make-Do apron tutorial. I'm going to mention right up front that this is Part One. I know, I know, I hate those shows where you get to the end and they say.....to be continued, but this project is heavy on the photos and I'm going to give you a week to get the apron pieces prepared and all ready to go so that next week we can start sewing. I'm also going to teach you how to make your own binding. That will be a separate tutorial.
The first thing you need to do is go over to Mary Jane Butter's site and download the FREE Make-Do Apron pattern. Mary Jane is very generous to share this pattern. Once you get into the apron making groove she's got lots of other patterns for sale in her online shop. Mary Jane is the rural version of Martha. Be sure to poke around her site and check out her Bed and Breakfast where guests are housed in wall tents. It looks straight up "Out of Africa".
Mary Jane Butter's Make-Do Apron Pattern
Once you've downloaded and printed out the pattern you're going to need to take it to an office supply or copy shop and have it blown up 200%. Most copy shops have an extra large machine that is used to copy architectural plans, etc. It's not expensive. I'm sure I only paid a couple of dollars.
Cut the pattern out. You can use this or transfer it to some of that pattern making material. It's like a an interfacing weight unwoven fabric. If you plan to make a lot of aprons the pattern fabric will hold up better than the paper.
Next, dig around the man's closet. Find a shirt that he won't be wearing anymore. The Farmer doesn't wear many dress shirts so he doesn't have any to spare. I go to Goodwill and dig through the racks to find shirts in cool colors or patterns. When they have their 1/2 price days I can get a shirt for $1.99.
TIP: Look for large or extra large shirts. They give you more fabric to work with and the tails are longer. In a minute you'll see why that's important.
I found a nice candy pink shirt. The label says large.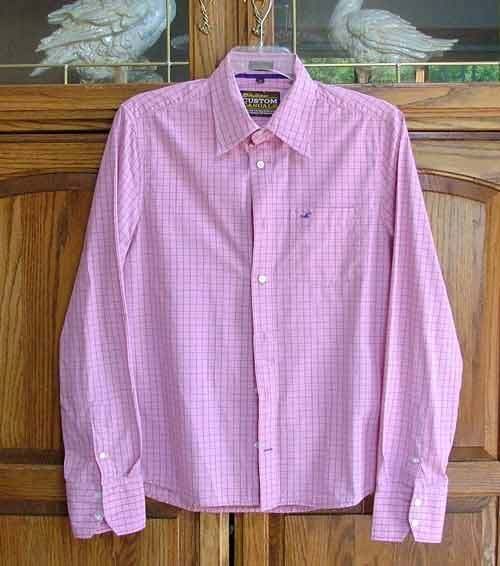 Next I choose two coordinating fabrics. One is for the upper tab piece and the pocket and the smaller print is for the binding. The pink doesn't match exactly but I don't make myself crazy over this. It's called the Make-Do apron, so I make do with what is in my stash.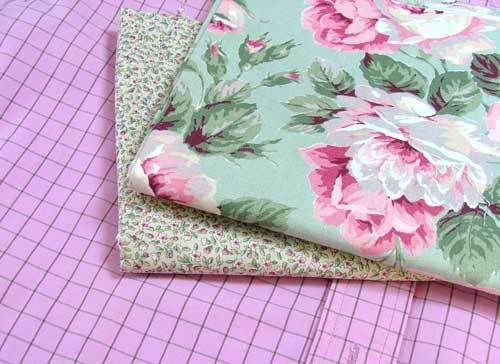 Now the fun begins. We're going to deconstruct the shirt in order to get our working fabric. Cut off the collar and cut off the cuffs. (I've got a ton of collars and cuffs and I'm still thinking about how to put these to a creative use. Ideas? Let me know.)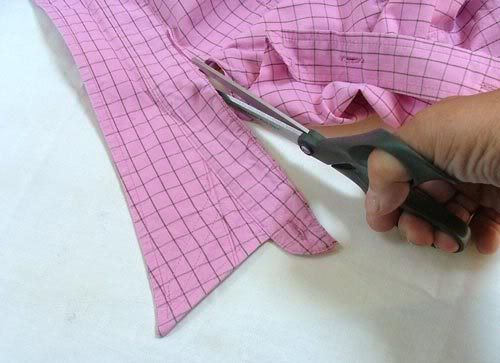 Cut across the shoulder seam and down to the sleeve. Cut off both sleeves. Cut off the shoulder piece.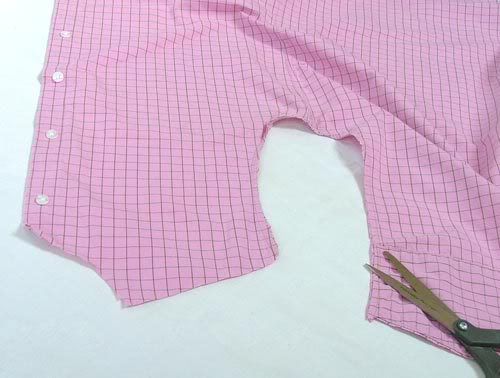 Now you've got one big piece that looks like this:
Take both sleeves and cut them open along the seam line. Lay one of the tie pieces on the sleeve. Position it as close to the edge as possible because we're going to try and get both tie pieces out of this sleeve.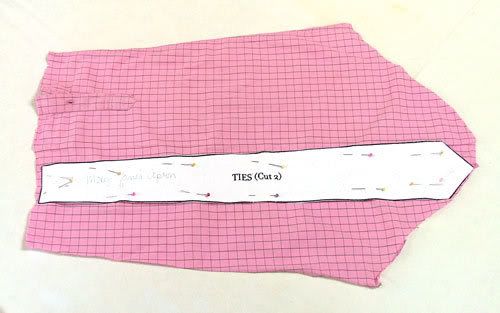 After you've cut the two ties, grab the other sleeve and pin down the neck piece. It should fit. You can see why you want a large or extra large shirt.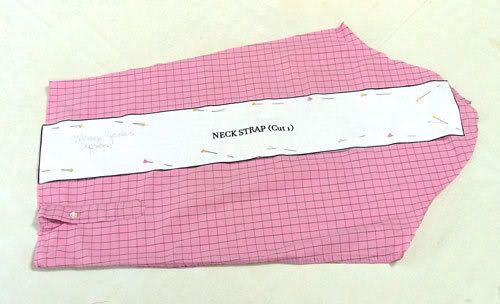 Take the large body piece and fold it in half. Lay down the main apron pattern piece.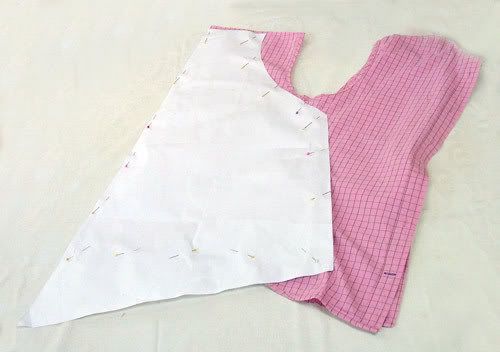 This shirt is a very good example to work with because I'll show you how you might need to adjust your plan a bit. This shirt isn't long enough for the pattern. There's not enough fabric for the "point" area. Mary Jane suggests that you can sew another piece of fabric on the bottom to make it long enough. I've done that before, but basically I'm lazy, so we're going to make this work.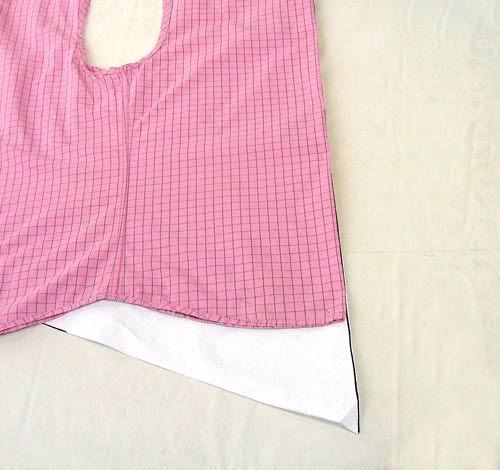 I cut the pattern piece and the result is nice. I'm going to have a shorter apron with a scalloped edge. That can work.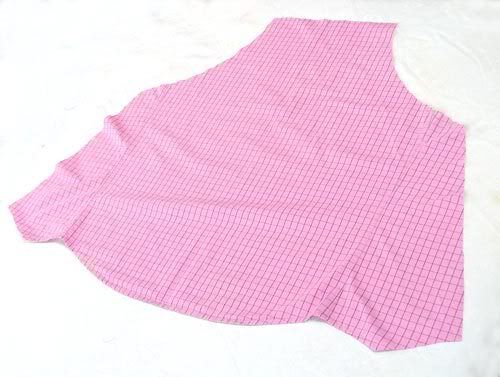 Go back and cut off whatever finished edging is on the bottom. That will only create bulk when we add the bias edging.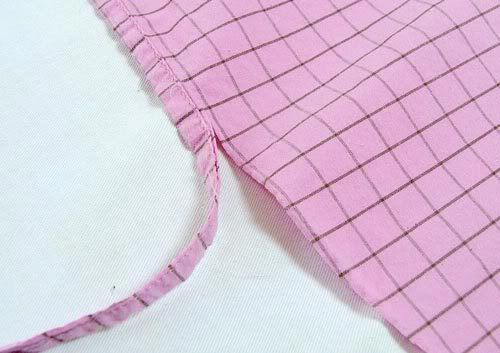 Gather all your pieces together because next week we're going to start sewing. I'm sorry to give you homework during the summer but I know you can handle it. It's going to be fun because this pattern allows you to get really creative. Think about the color choice when you're out looking for the shirt. Possibly take little bits of fabric from your stash so you can match it up. I've found terrific shirts at Goodwill. For example, I found one with chickens and that shirt was made up into a really cute French Country Apron.
See you next week! But please, please ask questions if there's something you don't understand.