"In order to make an apple pie from scratch, you must first create the universe."
~ Isaac Asimov
Yesterday I introduced you to my stepfather. He was quite a character in many ways. One of his missions in life was to find the perfect piece of pie. It was an interesting quest that never seemed to have an end. How would know definitively that you'd achieved your goal? What were the criteria for judging such a thing?
He never adequately explained those things, preferring to leave it all a mystery. I knew one thing for sure, he believed that the perfect piece of pie would not be found near an interstate highway. In fact, the quality of the pie rose exponentially in ratio to the distance from civilization. Or that's what he believed.
When he died I felt the need to take up the torch and continue the tradition. It's my duty to taste pies whenever and wherever the occasion arises. I've tasted pie in at least 20 states and three countries. Just this afternoon I picked up this little raspberry pie at the Italian market.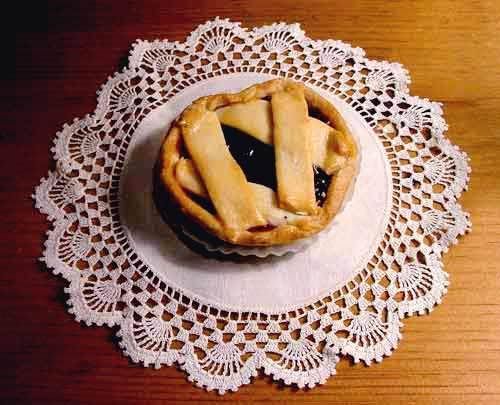 I'm going to eat it right now while I'm typing this post. I'll let you know how it rates.
Once a month a flea market is held at the local fairgrounds. They serve food to the hungry shoppers. The pies are good but the bakery case is in sad shape and doesn't instill faith in the cleanliness.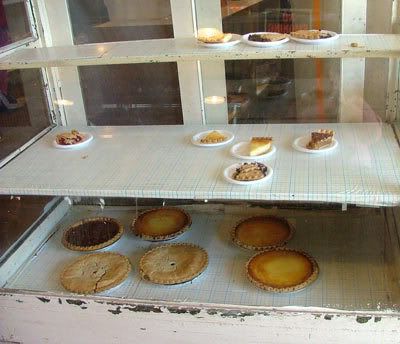 Here's one of the French nuns selling bakery goods at the flea market. These nuns have the most amazing bakery goods but I can't recall ever seeing a pie. Their booth instills great faith in cleanliness and life in general.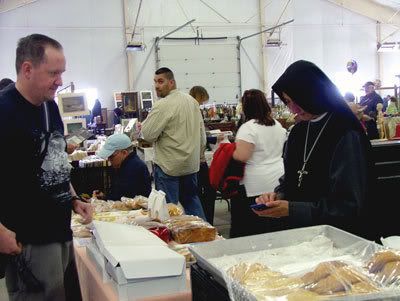 I think I've mentioned before that a restaurant in Kentucky, Patti's 1880's Settlement, makes a wonderful pie called "Sawdust Pie". I ranks as number two on my list.
Currently holding the title of Best piece of pie is the Maple Pecan Pie made by Paula Haney, owner of
Hoosier Mama Pie Company.
I met her at the fancy food show in Chicago. This was as far as you could get from the grocery store version of pecan pie.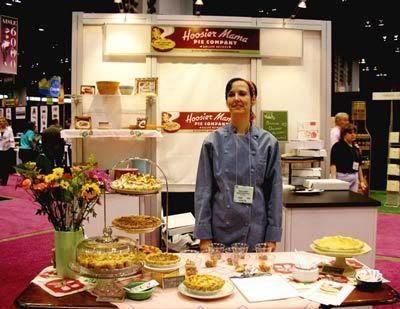 I'd love to hear from you if you have a great pie recipe. Just e-mail it to: Abscissa63@aol.com
I'm going to be baking pies all summer and reporting the results.
As for that little raspberry pie I started eating at the beginning of this post, it was terrible. The crust was tasteless and the filling tasted like raspberry jam straight out of the jar. Not a contender. Not even close.
NOTE: Did you do your homework? Tomorrow I will present Part 2 of the Make-Do Apron Tutorial. Thread those machines, and get your scissors sharpened. Hope to see you tomorrow, bright and early!