Remember when I challenged you to steal one of the titles from my story board? Some of you were up the challenge. We'll cover the "Green Twinkie" story another day. Today we're going to examine "Maya Angelou and the Chicken Breast".
My friend over at Liberty Post was brave enough to take the title and write something terrific. You can find it
HERE.
Take a moment and read, but only if you promise to come back.
It was quite intuitive of her to guess that Oprah was somehow involved in the story. It's amazing that I ever remember what I meant by my sketchy story titles. They are merely fleeting thoughts that I think might develop into something interesting but the truth is that often times I can barely remember what I had in mind.
I do remember this one. It's a perfect follow up to yesterday's post because the story involves cooking and nurturing.
Oprah was doing her "dinner with the author" events at the time. She would invite some of her viewers to enjoy dinner with an author featured on her book club list. This particular dinner was to be hosted by Maya Angelou and in my heart of heart I was longing to be one of those chosen few to sit at her table. I could close my eyes and hear her deep voice resonating through the room, commanding everyone's rapt attention.
For a week I imagined the fabulous caterer that Ms. Angelou would engage for the event. Surely she would have a hand in the menu choice and perhaps the flowers. I poured myself a cup of coffee and got comfortable in front of the television at the appointed hour and within 10 minutes I felt incredibly stupid. Caterer? Really? Did I really believe Maya Angelou would cater the event?
Somehow I assumed that world famous published authors would not bother themselves with such mundane tasks as cooking dinner. I was quickly schooled in lessons of sharing. Oprah joined Maya in the kitchen and watched while she lovingly prepared the meal and talked about the spiritual nature of preparing food for your guests. From planning the meal through it's preparation it's a gift that you give to your guests. It's caring enough to put together a beautiful and delicious meal.
Although I couldn't be physically present at her table, I learned a lesson so important that even the book they were discussing paled in comparison. She created a moment and they lived the moment. What more could you ask for?
It seems impossible for me to post without including a photo, so here's another portrait for you.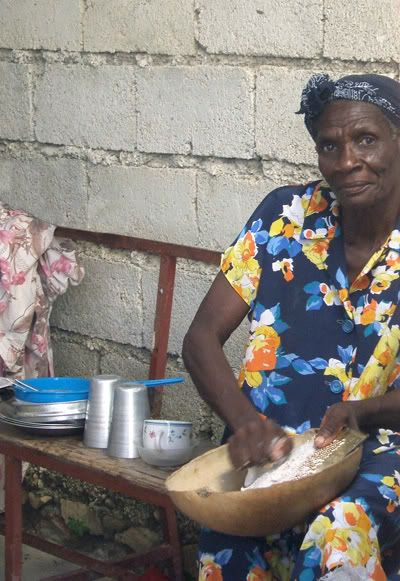 This photo was taken in Haiti by my friend Tony. I think this is such an amazing photograph on so many levels. This woman was preparing a meal for visitors on a mission trip. Her face and hands show hard times, but her honest gaze is unguarded. Look at her hand. She looked up at Tony but her hand never once stopped moving as she went about her task of preparing the meal.