Today I'd like to share a portrait with you.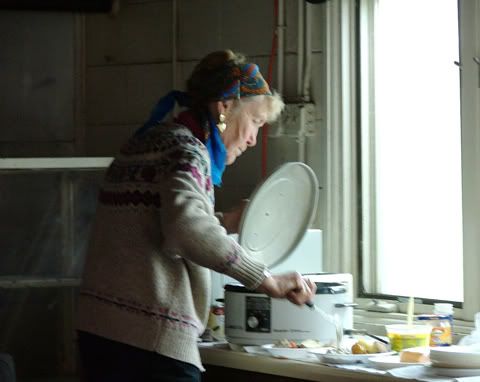 I call this one, "Vermeer on the Prairie" because of the beautiful light coming in through the window.
This woman is someone I admire and respect. She's worked hard during her lifetime and she's one of those people who will assure you that the good old days weren't all that good. Think about how your day would play out if you had no central heat in your house the mop water would freeze before you could finish your job.
This woman represents the nurturing spirit. It doesn't really matter who she is, her identity is not important but the qualities she embodies are all important. Her power doesn't come from
who
she manages. It comes from
what
she manages.
You're looking at true grit, my Vermeer on the Prairie.
NOTE: If you're interested in reading about women with true grit I suggest:
Giants in the Earth by Ole Edvart Rolvagg.
This book was written in Norwegian and translated to English. It chronicles the experience of early Norwegian immigrants living on the prairie. It is part of a trilogy.
This Cruel War - the Civil War Letters of Grant and Malinda Taylor -
This is an amazing and almost complete set of letters written between husband and wife during the civil war. Grant spent five years away from his family and Malinda changed in ways that her husband was not completely comfortable with. This is one of the most interesting books I've ever read. It's an accurate first-person account of living life in the late 1800's.