The next time you're in the grocery store, be careful when you walk through the product department because danger lurks there. I'm not talking about samonella, I'm talking about key limes!
Sure, they're as cute as they can be, the baby bunnies of the citrus world. Don't be fooled, they're sirens in the Greek tradition, calling to you from among the oranges. They're only $1.69 for an entire bag but the minute you get them home the torture begins.
How could these little limes torture you? For starters you'll need to squeeze at least 30 of them to get enough juice to make anything. The process of juicing these limes will cost you an hour of your life and send you to an orthopedic physician to deal with your hands.
My single encounter with key limes left me traumatized and just the sight of them causes me to break out in a cold sweat. Don't mess with them I tell you.
When I told my friend Becky what I'd been through she looked at me in disbelief.
"You did WHAT?" she asked.
"I juiced 30 key limes," I whimpered.
"Why would you do that? Haven't you ever heard of Nellie and Joe?"
"No, who are they?"
"They juice the limes so you don't have to." she said.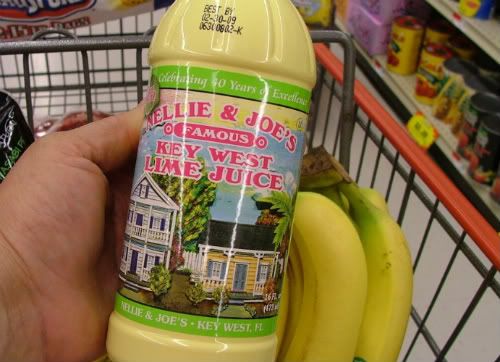 I felt pretty dumb and promised myself to examine the grocery shelves in greater detail in the future. I came to love Nellie and Joe. They do an awesome job. I bet they've got the best orthopedic surgeon that money can buy.
If you're looking for something to do with their key lime juice, try these two recipes.
KEY LIME PIE MARTINI
Graham cracker crumbs
2 shots vodka
1/2 shot key lime juice
2 TBSP. heavy whipping cream
1 shot pineapple juice
Wedge of lime
Run the wedge of lime around the edge of a martini glass. Dip the glass into a plate of graham cracker crumbs to coat the edge. Add all remaining ingredients to a cocktail shaker filled with ice. Shake vigorously and strain into martini glass. Raise the glass and toast Nellie & Joe.
- - - - - - - - - - - - - - - - - - - - - - - - - - - - - - - - - - - - - - - - - - - - - - - - - - - - - - - - - - - - - - - - - - -
KEY LIME BARS
2 cups sifted all-purpose flour
1/2 cup powdered sugar
1 cup margarine
4 eggs, lightly beaten
2 cups sugar
1/3 cup bottled key lime juice
1/4 cup all-purpose flour
2 teaspoons baking powder
Sift together the flour and powdered sugar. Cut in the butter until the mixture clings together. Press this mixture into a 9 x 13-inch baking pan. Bake at 350 degrees for 20 to 25 minutes. Meanwhile, beat the eggs, sugar, and lime juice together. Sift 1/4 cup flour and baking powder together; stir into the egg mixture. Pour over the baked crust and return to the oven for an additional 20 to 25 minutes. Cool, sprinkle with powdered sugar and cut into bars.
NOTE: I found Nellie & Joe's in the section of the grocery store where they keep the regular lime juice.
Have a great Monday everyone.