Summer is an unending schedule of small town fairs and festivals. It's as if every town wants to get in their licks before the summer is over.
This weekend there were no less than three festivals within 20 miles of here. Elburn Days is a fun tradition, South Elgin Riverfest is a bit further away and there was also the Steam Power Show in Sycamore.
Since my energies are at a low point I had to choose.......I made it to two! Unfortunately I was only able to make it into Elburn early on Saturday morning. My plan was to try and meet up with one of my local readers.
When I arrived the 4-H judging was underway. I'm going to try and post a video tomorrow of all the 4-H hogs walking around and around in the judging area. It was a mob scene and they were noisy. The kids were doing their best to keep the hogs under control.
In the center of the park I found the fair food booths were having a standoff. On one side the outsiders.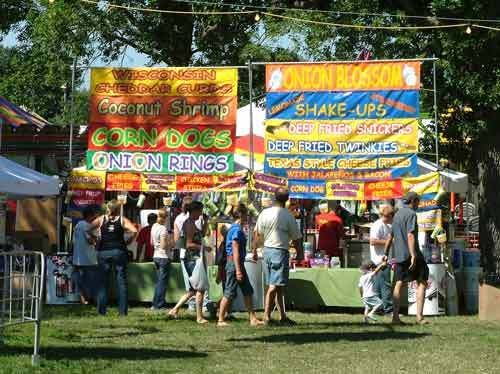 They were serving the most stomach churning combination of foods.
Wisconsin Cheddar Cheese Curds (fried, I'm sure)
Onion Blossom
Coconut Shrimp
Corn Dogs
Onion Rings
Texas Style Cheese Fries
Mozzarella Sticks
Battered Mushrooms
Jalapeno Poppers
Nachos
Deep Fried Snickers
Deep Fried Twinkies
Wash it all down with Lemonade or Strawberry shake-up.
Opposite was the local contender, serving mostly Chicago style Italian food items.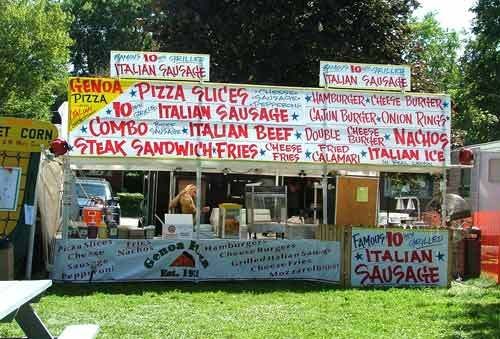 But I walked the gauntlet between them to reach my goal.....the church tent! Church ladies bake a ridiculous number of pies and of course it's my duty to TEST DRIVE SOME PIE!!!
This was a slice of blueberry pie.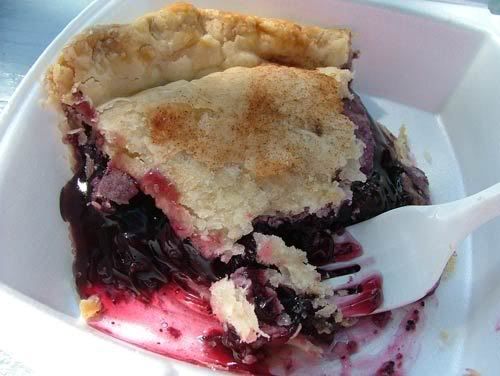 The filling was strictly out of the can but the crust was excellent, very flaky and if you look carefully you'll see that it was lightly dusted with some cinnamon. I swear that a pie crust pie (no filling) would be fine with me. I love flaky pie crust.
There was also apple, strawberry rhubarb and some other flavors available but since I was joining the Farmer at another festival later in the day I had to pace myself.
Unfortunately since I was there very early in the day I missed my local reader. Sorry Mary!!
NOTE: Come back tomorrow and we'll meet some of the people at Elburn Days including one of my Peeps!