I invite all my readers to meet up with me today at 12 noon at the
Heirloom Garden Show
which will be held at Garfield Farm Inn and Museum.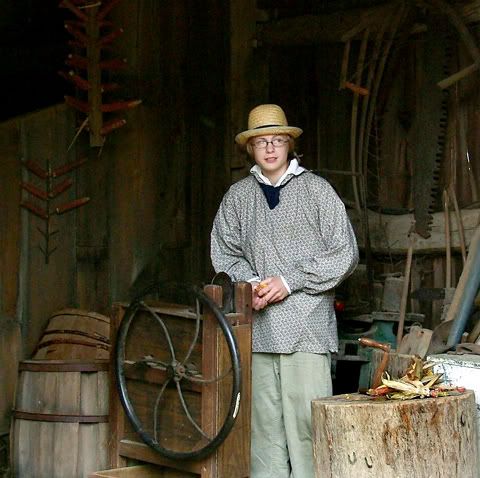 Volunteer interpreter at Garfield Farm Inn & Museum
In addition to the display and vendors there will be an opportunity to view the prairie plot. Jack Shouba, an area naturalist will help interpret it with John Engstrom, the farm museum's new prairie manager. You can also tour the original 1846 tavern.
Heirloom Garden Show
Aug 24 - 11am-4pm.
Directions:
Garfield Farm is on Garfield Road just north of Illinois Route 38 between Geneva and Elburn, Illinois. It is about 3 miles west of Randall Road, which is at the west edge of Geneva and St. Charles. From Illinois Route 38 turn north on Garfield Road and go about 1/4 mile to the Garfield Farm and Inn.
As I mentioned previously, I will be bringing my vintage picnic basket. I'm bringing:
Artichoke and green olive salad
Crusty French Bread
Chicken Salad with Blueberries
Suzanne McMinn's Buttermilk Pie
Hope to see you there!