Be forewarned, this is a fly-by-the-seat-of-your-pants-recipe, which means there are no specific measurements. Try cooking without a net. This chicken salad is pretty straightforward, just add whatever extra ingredients you might have on hand or that you feel will add an interesting touch. Here's the recipe for the chicken salad that I took in my picnic basket today. More on the Heirloom Garden Show tomorrow.
Slightly Curried Chicken Salad
Boneless, skinless chicken breasts, cooked and diced
(1/2-1 chicken breast per person)
Mayonnaise
Celery, diced
Salt and pepper
Curry powder
Add the following according to your whim:
Grapes, cashews, bluberries, pine nuts.
Put the diced chicken into a bowl.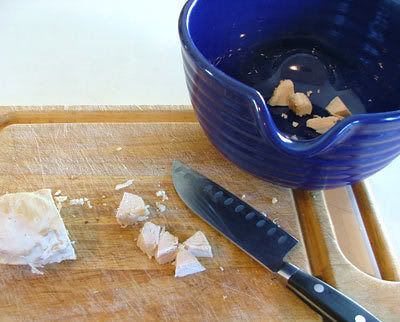 Add the celery and salt & pepper to taste. Stir in enough mayonnaise to moisten everything. Add a small amount of curry powder (1/4 tsp.) stir well, taste and add more if needed. Remember, the flavors intensify as it sits, so be careful. Add grapes and cashews, if desired.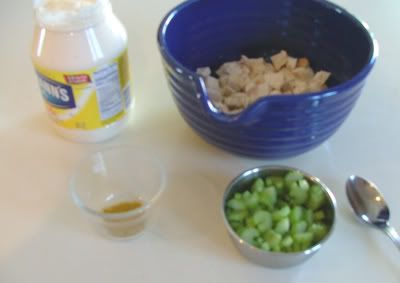 Really fuzzy photo - the camera was nipping the wine!

NOTE:
Many people do not like curry, but I have found that just a small amount of curry powder will add a depth of flavor that is barely noticeable. To release the oils in a spice, heat a small fry pan over low heat. Add the spice and stir until it just begins to give off a little steam. This releases the oils and gives a bolder flavor.
I didn't have grapes on hand so I used some blueberries. Don't mix them in until the last minute before you serve, otherwise you'll have bluish, purple chicken salad and that's not very appetizing.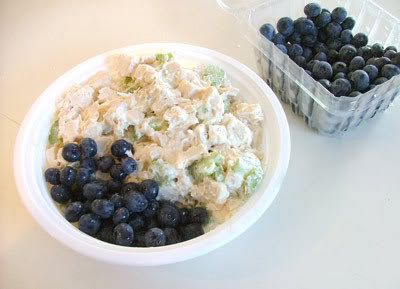 Enjoy!