It was a beautiful day for the Heirloom Garden Show at Garfield Farm Inn and Museum. The weather was clear and we had perfect temperatures. I arrived and checked in with my sister to see Boone County Heritage Garden's table. They had tasting of jams and preserves. My favorite? The onion and garlic jelly. WOW...it was terrific.
The Hot Pepper
guy was there. I bought his hot pepper/pineapple hot sauce. It's terrific. I loved his "table". It was four hay bales and a board.
The ever-lovely Donna was there in period dress. If you remember, we toured her spectacular gardens in La Fox a while back.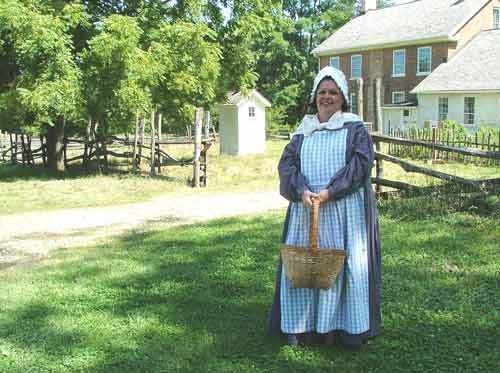 There were people there with more different varieties of tomatoes than I every knew existed. One man grows 80 different varieties. Stop and think about that for a moment. Do you know how many tomatoes you get from one plant? Times 80?? That's crazy.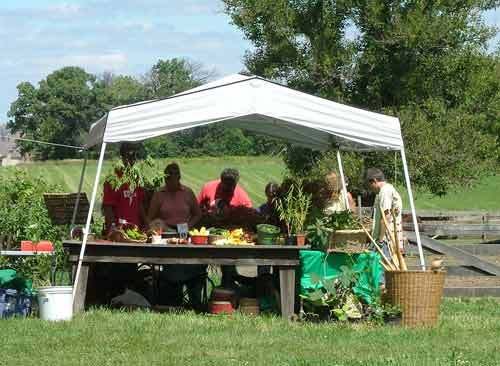 Mary Burnitz is pouring me a taste of her beet wine. Yes, BEET WINE! It was spectacular. So delicious. She convinced me that making wine wasn't all that difficult and showed me several cookbooks that included wine recipes. I'm going to try! Yeah, the little-ole-winemaker, me!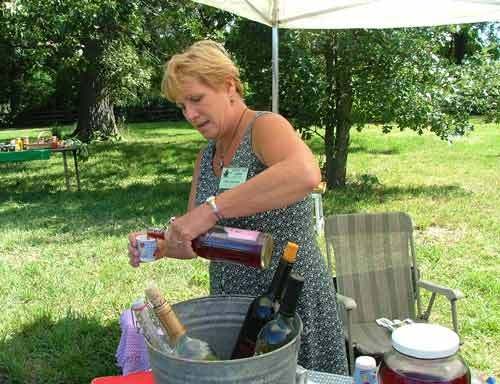 Mr. Bauer was making sure Garfield Farm's oxen behaved themselves.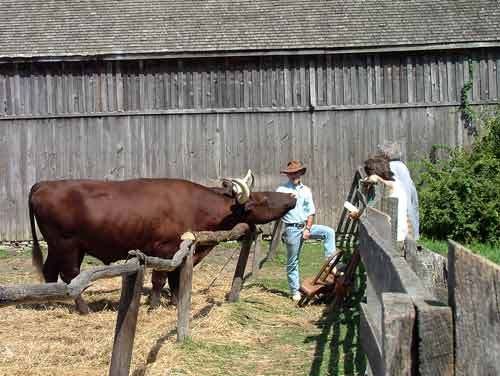 I was waiting..........patiently.......with my Slightly Curried and Blueberried Chicken Salad, Artichokes and Olives, and Buttermilk Pie.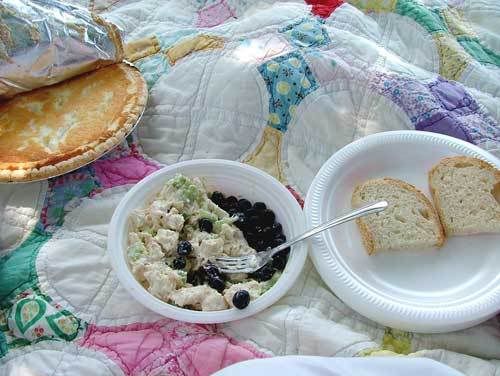 At about 1:00 p.m. yesterday afternoon I happened upon the Executive Director of Garfield Farms, and Historical Preservationist extraordinaire Jerry Johnson. He was strolling through the Heirloom Garden Show taking pictures and enjoying the stunningly beautiful afternoon.
"Jerry, I set up my quilt under the beautiful tree behind the hen house," I said.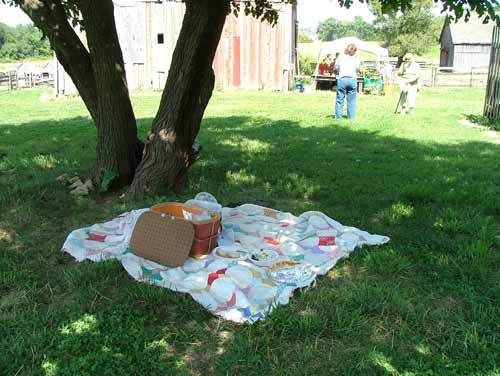 He glanced over in that direction but quickly noticed the the picnic basket was hanging heavily in my right hand.
"I invited my local readers to join me here at the show," I continued. In reality I sent my invitation out to the four winds......
Norway,
Jordan,
India,
West Virginia,
Maine
.....well, you get the idea.
"No one showed up Jerry. I feel like the ugly stepsister who gets stood up on prom night!"
Jerry nodded. I'm not quite sure if he has ever been stood up. His nod was perhaps just in acknowledgment of my situation.
I trudged on, hauling my picnic basket over to the tables being manned by my sister and her co-worker Pat. They were mighty happy to see that curried chicken salad and buttermilk pie.
On my way out I cut a couple of pieces of pie for the guys greeting the guests at the gate.
I suppose that I could slather myself with blue paint and dance around feigning disappointment. But the truth is that I know most of you would have loved to have spent a beautiful, balmy Sunday afternoon on the Illinois prairie. Speaking of prairies, they did have a tour of the prairie plot. I felt all of you in spirit and for my readers and their energy I am so grateful. Without my readers there is no "At Home......"
BUT....here's what you missed. I had one of my Farmer's Wife aprons to give away to the first guest who showed up under the shade tree.
I'm still going to give it away, but a mere "I want the apron" in the comment section just ain't gonna do it. Here's the deal. You're going to have to tell me your own personal "Stood Up" story. Haven't we all been stood up at one time or another? Tell me a good, juicy, awe-inspiring tale. I'm going to put all the names in a hat and draw a winner on Thursday. DANG...the Farmer is going out of town again. He's going to slip through my clutches and I"m not going to be able to photograph him in the prize apron. He's a slippery devil.